360-degree Telehandlers
Date: 27/09/18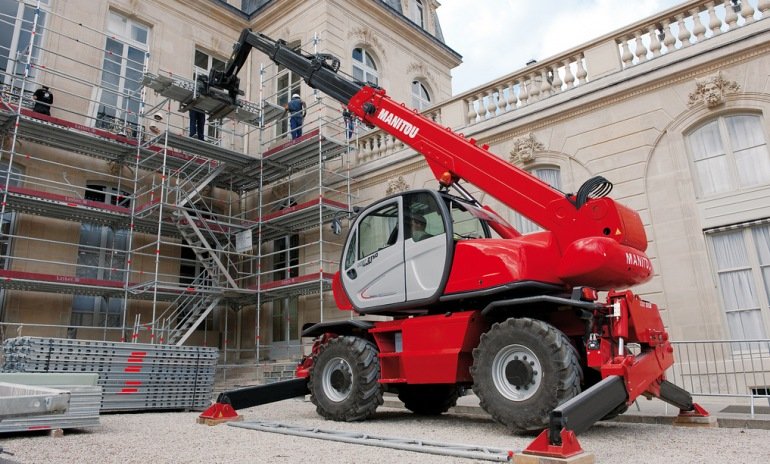 Ardent Hire has a fleet of 360-degree Roto telehandlers available for hire. These amazing machines offer continuous 360-degree reach capabilities combined with impressive load heights and precision control.
By hiring a Manitou MRT Rotating Telescopic Handler, you have true control. These 360-degree telehandlers have capabilities that no other telehandler has, and they really show how powerful and innovative they are with their impressive load heights. Your telehandler operatives will be able to work in complete and total safety on a range of terrains.
The control that is experienced with the 360-degree rotation, when combined with the telehandlers' manoeuvrability, allowing it to turn in compact circles, even in the tightest conditions. Telehandlers aren't known for being small or compact machines, but with the capabilities of the ROTO series, your workers won't feel like one machine is taking up too much space and limiting what they can do during a job.
We currently have 6 variations available, the Manitou MRT2150, MRT2470, MRT2540, MRT2550, MRT3050 and MRT3255 Rotational Telehandler.
The MRT2150 is a fantastic asset for handling operations. This 3-in-1 unit is simultaneously a telehandler, crane and work platform. With full 360° rotation means you can carry out different operations without having to move the machine.
The MRT2470 is an all-terrain rotating telehandler well suited for construction and industrial applications. The MRT2470 can lift 7 tonnes or 2.5 tonnes at 23.7m while maintaining accurate control of the load. Both the MRT2150 and MRT2470 have a pentagonal box section boom. With this, you get more precision when steering with boom lateral rigidity preserved. Both powerful and accurate, it would be silly to miss out on this versatile machine.
The MRT2540 is specially designed to meet the needs of construction use involving great heights. Its high lifting capacity, 4-point chain boom and full 360° rotation mean you can perform numerous maintenance operations from a single stationary point. The telescopic outriggers ensure secure stability even on uneven ground. For increased day-to-day safety, the CEC (Load Status Monitoring System) is there to make sure the actual weight load doesn't exceed the theoretical work chart. The CEC cuts the machine off in the event of an overload.
The MRT2550 handles loads of up to 5 tonnes and performs operations at heights up to 25m. It offers great versatility in daily tasks. The boom, consisting of 4 elements, combined with the 360° rotation of the turret allows you to perform various operations without moving the equipment. The attachment recognition system E-reco lets you save time by specifying the proper work envelope and enhances security since it automatically detects any overload.
The MRT3050 is an all-land rotating telehandler well suited for construction and industrial applications. It has a lift height of 30m and can carry up to 5 tonnes. The pentagonal cross-section allows for absolute precision when operating the boom, preserving lateral rigidity regardless of the amount of wear. This translates into greater safety for both you and your teams.
The MRT3255 has a lift height of 32m and is both efficient and powerful. If you're on-site and need a machine that can really push the limits of what a telehandler can do, then the MRT3255 can offer you versatility for your industrial and building projects.
For safer operating, the tilt correction system and telescopic outriggers with wider feet giving you the stability you need. The spacious driver's cab, suspension and reclining seat help reduce daily physical fatigue. The MRT3255 also comes equipped with the E-Reco automatic attachment recognition system which specifies the maximum work envelope for the task at hand.
To find out more about our excellent fleet of rotating telehandlers and which one is most suitable for your project, contact our plant hire team directly on hire@ardenthire.com or call 03333 202 555.
0 Comment
---
Blog Archives
In an increasingly competitive business landscape, companies across industries are constantly...