ROTO: a multi-functional "must-have"
Date: 16/01/17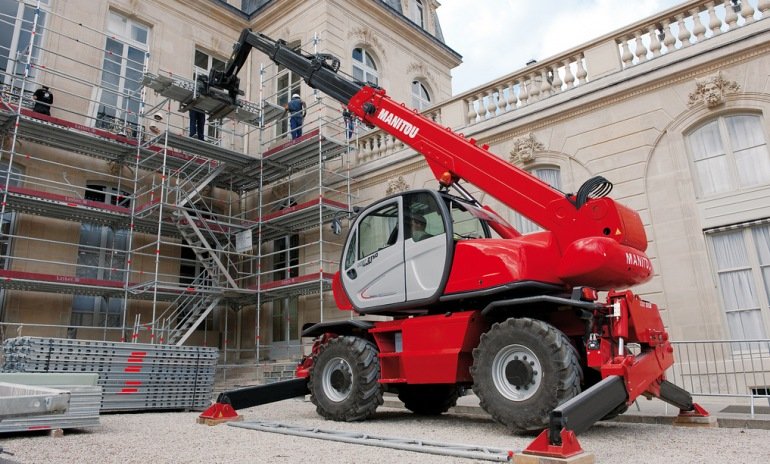 The rotating tele-handler (ROTO) is a "must-have" on modern construction sites. With a range of functions, 360-degree reach and exceptional manoeuvrability it's one of the most flexible machines in Ardent's fleet. And to ensure complete versatility, we offer three different models of Manitou ROTOs that cater for a broad range of jobs and conditions.
Multifunctional
Rotating Telehandlers can do the jobs of a telehandler, a crane and an access unit – all with one machine! ROTOs provide 360-degree reach, impressive load heights, a stable access platform and precision lifting, making it one of the most versatile plants on site today. Combining all these functions in to one compact machine, with one operator, is a great efficiency saving - saving you money and time, as well as taking up less space on site.
Precision
Even with a big range of functions to account for, Manitou ROTO telehandlers deliver intuitive precision control. The ROTO's precision electro-hydraulic control joysticks operate the boom with superior accuracy at any height or angle.
Reach
Ardent's Manitou range can reach places that other machines can't. Our rotating telehandlers provide lift heights of up to 32m from a machine with exceptional manoeuvrability and a tight turning circle. This means that these compact machines can provide powerful lifting capability on locations and terrains that cranes cannot reach.
Safety
Manitou Rotating Telehandlers are designed for maximum on-site safety. All the machines have adjustable outriggers for absolute stability and efficient load distribution. They can work safely on a wide range of terrains and are highly manoeuvrable even in tight spaces. All-round visibility ensures the safety of the operator as well as other personnel.
Find the right ROTO for you Ardent offer 3 models of Manitou ROTO telehandler.
Each machine is adapted for different load sizes and site requirements:
Manitou MRT 2150 Privilege plus is an all-terrain, versatile rotating telehandler with a 20m lift height
Manitou MRT 3255 Rotational Telehandler is designed to handle larger, bulkier loads with ease
Manitou MRT 2540 is ideal for high lifting in construction
If you have any questions about our ROTO range or would like help deciding on the best machine for your job, contact our expert customer service team today.
0 Comment
---
Blog Archives
In the dynamic realm of construction, where precision and efficiency are paramount, Ardent Hire's...