How the Ardent App helps with breakdowns
Date: 23/07/21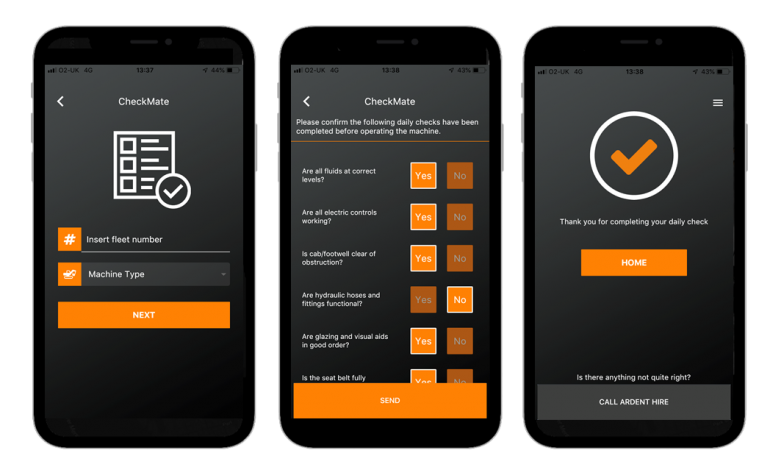 At Ardent, we pride ourselves on the reliability of our fleet and plant sales service. We have invested heavily in the very latest, most dependable equipment, and we replace our units regularly to keep the average age of our £200million worth of stock under two years. Having one of the youngest plant hire fleets in the industry is not just for show; analysis proves that newer equipment is more reliable and less likely to breakdown, delivering a dependable service to our clients across the UK.
We're proud of our Reliability Promise, and we go out of our way to live up to, and exceed, your expectations on each and every hire and plant sales service. But even with our significant investment in equipment, and our dedication to service and support, even Ardent is not perfect. Sometimes, the Gremlins will win, and your mini excavator hire, or telehandler hire, will let you down.
First class field service
When this happens, Ardent has a large team of field engineers poised and ready to respond rapidly. We also have a great relationship with our suppliers, giving us access to an even larger team of in-house experts. These experienced engineers have the tools and expertise to fix problems fast, normally on-site, getting your team back to work as soon as possible.
Of course, not every issue needs an Ardent engineer to fix it. Many common problems could be solved on the spot by your own team, if only they had the knowledge and expertise to do so. And now, thanks to the new Ardent app, that's exactly what they have got.
Fix common problems fast
Scan the QR code on your machine using the Ardent app, and you'll link directly to resources explaining the most common breakdown issues with everything from mini excavators to huge telehandlers. Each one includes detailed, step-by-step guides to help you solve the problem fast, using simple solutions that do not need any engineering expertise. In the vast majority of cases, these easy-to-follow tutorials can get your equipment up and running and back to work fast, without any of the delays involved in waiting for a field engineer to call.
Reporting faults
The Ardent app can help solve most breakdown issues, but inevitably there will be some problems that still require an engineer. The good news is that the app can be used to report such problems quickly and easily, directly from the site, without the need to visit the site office or call Ardent directly. Simply enter the details of the equipment and the problem into the Ardent app, and we will automatically arrange for one of our many field engineers, or a representative from the manufacturer, to attend your breakdown as soon as possible.
The answer's in the app
Rapid problem solving is just one of the many ways that the new Ardent app can empower your team to be more efficient and effective, by giving them the information they need, when they need it. To find out more about how to unlock productivity on your site with the Ardent app, visit our website today, or download the app now, completely free of charge, at the Apple App Store or Google Play.
0 Comment
---
Blog Archives
​​​​​​​Many suppliers talk about customer service as being their reason for success....