Ardent Places £9 million Order With Thwaites
Date: 06/08/19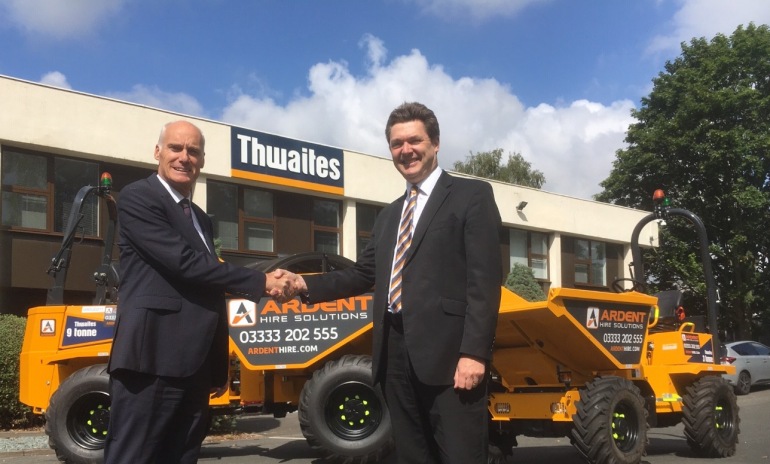 National plant hire provider, Ardent Hire, has placed an order for 300 Thwaites Dumpers in a deal worth more than £9 million.
Ardent's order will replace and expand its existing fleet, allowing it to maintain one of the largest and youngest dumper fleets in the UK.
The investment includes a range of 3t to 9t straight and swivel tip dumpers all from market-leading manufacturer, Thwaites.
The company has also invested in a brand-new fleet of 6 and 9 tonne cabbed dumpers as part of addressing key safety concerns on construction sites today.
Working with Track Unit, the fleet has been modified to provide advanced telematics that is integrated into Ardent's award-winning behavioural management system, Site Manager. Dubbed 'a new approach to dumper hire,' Site Manager provides real-time information on safe usage and operations enabling customers to get the best value out of their hires and maximise safety.
Ardent's CEO, Jeremy Fish, said: "The majority of our fleet is now Thwaites which are very well built and reliable. Our investment also provides us with a standard platform for advanced reporting through Site Manager. Our view is that there are still too many accidents involving dumpers in the UK. Site Manager is helping to address this by making construction sites safer and more productive."
Thwaites' Managing Director, Ian Brown said: "We are delighted to be working with Ardent and their innovative approach is welcome at a time when customers are looking for solutions that can save them money and improve safety at the same time."
Trading from 11 depots nationwide and specialising in providing plant hire to major housing, civil and construction clients, Ardent is constantly investing in the most technologically advanced machines and innovations on the market. It has a range of over 5,000 units for rent with an average age of fewer than two years.
For further information contact: Anuj Patel, Head of Marketing – Ardent Hire
Tel: 0208 443 7111, E-mail: anuj.patel@ardenthire.com www.ardenthire.com
0 Comment
---
Blog Archives
In an increasingly competitive business landscape, companies across industries are constantly...