Ardent wins Digital Construction Excellence Award
Date: 30/07/19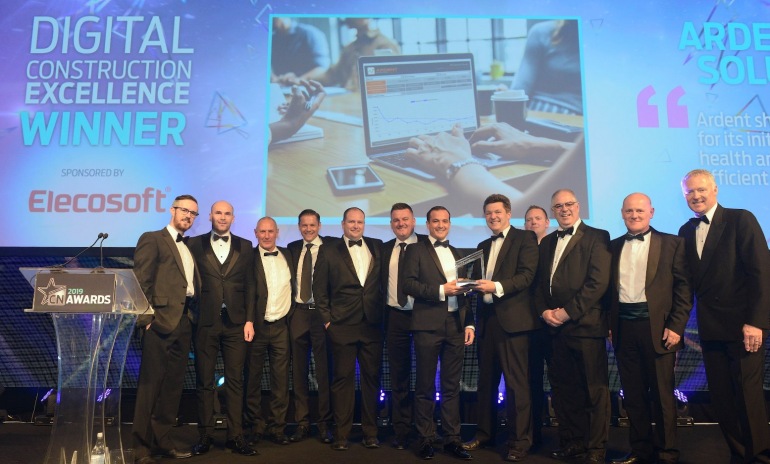 Ardent Hire Solutions has won the Digital Construction Excellence Award at the 2019 Construction News Awards.
The inspirational winners of the 2019 Construction News Awards were crowned in front of the industry on 11 July at the Grosvenor House Hotel, London.
Ardent put forward their industry leading Site Manager platform which continues to go from strength to strength. With over 1,200 construction colleagues and customers in attendance, the award recognises the hard work, vision and innovation that Ardent can play in improving efficiency and safety on construction and project sites while reducing costs at the same time. The judging panel praised what they saw as a "really brilliant idea, an elegant solution and an exemplar of how data can help change usage on sites."
Site Manager is Ardent's unique Management Information and Telematics System ('MITS') that has been developed by Ardent and is the only software tool in the hire industry today that provides a practical solution for improving productivity, reducing operating costs and reducing risks.
"What Ardent has managed to do is change behaviour and achieve a demonstrable outcome," they said, adding that it was notable how the firm had taken a problem and devised a solution while at the same time increasing efficiency.
The panel also dismissed the notion that workers might feel conscious of being watched all the time; instead the panel felt it was "an intervention that makes people behave as they should rather than as they feel they can". They thought that, even among a strong field of finalists, Site Manager was the clear winner.
The judges also noted Site Manager's lack of complexity: "Ardent's deceptively simple application of telematic data can be used to change behaviours in one of the least-managed aspects of construction, which is plant hire".
"Ardent should be applauded for its initiative in addressing health and safety, as well as for the efficient use of plant."
The panel reacted positively to Site Manager because it was simple to understand and demonstrated clearly how existing data could be used to improve quality of life.
Shortlisted against some of the largest construction companies in the World including, Sir Robert McAlpine, Anglian Waters, Taylor Woodrow & UK BIM Alliance, we are thrilled to have won this award, and want to thank everyone who has shared our vision to make this happen.
Lem Bingley, editor of Construction News, commented:
"This year's CN Award winners demonstrate that the construction industry remains home to unrivalled reserves of insight, invention and determination. Across 21 categories, our panel of distinguished judges found an amazing variety of groundbreaking innovation, inspired leadership and dedicated delivery.
"Every one of the shortlisted entries thoroughly deserved their place at the awards, having demonstrated their merit throughout a particularly rigorous, multi-stage judging process. In every category, the award winners can be truly proud of the scale of their accomplishments."
The full list of winners can be found at: https://awards.constructionnews.co.uk/
0 Comment
---
Blog Archives
In the dynamic realm of construction, where precision and efficiency are paramount, Ardent Hire's...