Ardent Hire Wins the Most Innovative Supplier and Best Health & Safety Innovation at the Building Innovation Awards.
Date: 08/11/19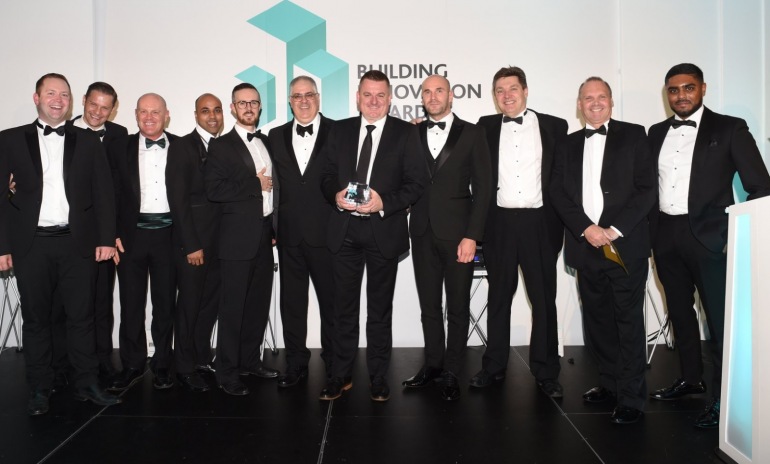 Ardent Hire has won Most Innovative Supplier and Best Health & Safety Innovation at this year's Building Innovation Awards held on 23 October at the Midland Hotel, Manchester.
Ardent Hire Solutions were selected as a finalist in 4 categories:
Most Innovative Supplier
Best Asset Management Innovation
Best Health & Safety Innovation
Best Digital Transformation
These awards showcased Ardent's Site Manager platform. This is a unique Management Information and Telematics System ('MITS') that has been developed by Ardent. This is the only software tool in the hire industry today that provides a practical solution for improving productivity, reducing operating costs and reducing risks.
For the Most Innovative Supplier category judges declared, "we were pretty unanimous in awarding this to Ardent. Firstly, it was because of the impact on health and safety. We were impressed that it was using data to change the culture. From a business case perspective, one company saved around £100,000 through cutting out idle fuel consumption. Another company saved £300,000 from looking at the productivity of the machinery. This was because they found greater capacity just through the data that was collected.
Jeremy Fish CEO commented: "We are the Most Innovative Supplier and are thrilled to have won this award. This recognizes all the hard work that the team have put into winning this, making our industry a safer and better place to work. I think innovation, especially in the construction industry, is critical and the whole industry needs to innovate. Ardent is at the forefront of doing that and we are delighted to receive this award".
For the Best Health & Safety Innovation category, judges commented: "We were impressed with the Ardent submission. First, it was a very good all-round entry which answered all the questions exceptionally. We felt what was particularly impressive was the KPIs. We always believe in showing the results of any innovation. It is all well and good having a good idea but what does that mean to the end product? What we had with this submission was some impressive KPIs".
Leigh Webb Sales Director commented, "it is fantastic to be awarded for Best Health & Safety Innovation as a business. We feel passionate about not only our employees going home safe every day but also the employees of all our customers. Our innovation is designed to ensure that people get home to their families every single day, so it is a fantastic achievement."
The Building Innovation Awards highlight the technology and techniques that are not only boosting productivity and profits but also delivering greener, smarter and safer buildings.
These awards are a testimony to the hard work and leadership of our team who are dedicated to our vision for a better industry.
This follows Ardent's recent success at the Construction News Awards where they walked away as winners of Digital Construction Excellence for their proprietary Site Manager platform.
0 Comment
---
Blog Archives
In an increasingly competitive business landscape, companies across industries are constantly...