Warrington Achieves Bronze
Date: 10/10/17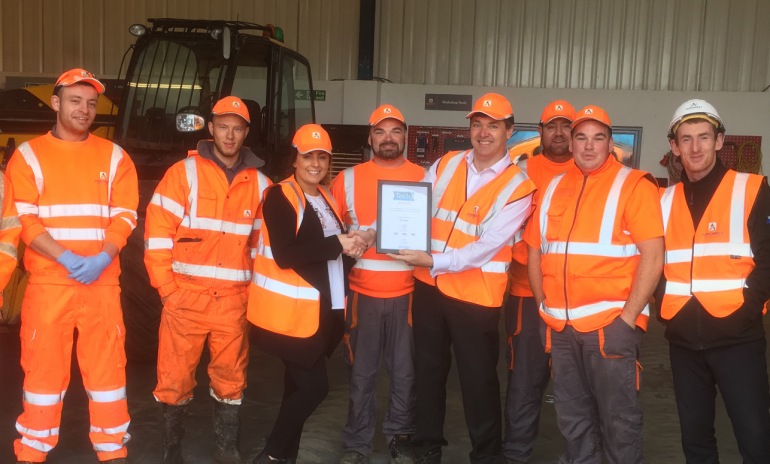 Warrington is Ardent's first depot to be certified to our new 5S 'TechX' (short for 'Technical Excellence') Bronze standard. The principle of 5S is that everything has a place, everything is in its place and you can get your hands on anything you need within 30 seconds of requiring it. Ultimately this results in a cleaner, happier, safer and a more productive work environment. For our valued customers this means better quality, reliability and service.
Implementing a standardised approach to excellence gives us consistency across our business and provides customers with the high quality standards they are accustomed to regardless of the depot they are dealing with.
What is 5S?
In simple terms, the 5S methodology helps a workplace remove items that are no longer needed (sort), organize the items to optimize efficiency and flow (straighten), clean the area in order to identify problems more easily (shine), implement colour coding and labels to stay consistent with other areas (standardise) and develop behaviours that keep the workplace organized over the long term (sustain).
How is the Ardent TechX award achieved?
The award is governed by the senior management team and our external consultants. Each depot is given a step by step process to reach Bronze level. After the depot has been audited and satisfies the criteria, it is presented with a certificate which is valid for 12months. After this time another audit will take place to establish continuity of the high standards and potential to achieve the next level.
The Benefits
We asked Warrington Depot Manager, Michelle Mousley and Yard Foreman Mark Carey, who project managed this transformation, to comment on their experience:
"The changes we undertook created a much better working environment for all. It became a safer, cleaner and much more efficient place to work. It now serves as a continuous improvement tool. Now we can clearly see if and where we can make more improvements.
We noticed the team are a lot happier to be working in this environment and working in this manner. It has also allowed the entire team to have the tools they require to work more efficiently and everyone is very proud of their working environment, especially knowing they have done the hard work themselves. Time management for all the team including fitters, drivers and office staff has become a lot more efficient. We have also seen the amount of reported accidents reduce, and not to mention an overall more professional looking workplace.
I am not going to lie, it was tough. There has been a lot of hard work and late nights to get to the standard we are currently at. Like most things, it got worse before getting better, especially during the initial sorting stage. The whole team carried out all the works themselves, including stripping floors, painting walls, cleaning and sorting. The most important thing here was that the team were totally bought into this ethos and could focus on the end result. The next step is to maintain this standard and to strive for continuous improvements along the way."
The Journey
Ardent's 5S TechX journey has 3 levels. Bronze, Silver and Gold. The aim is for every depot to be Bronze certificated by the end of March next year. After this has been achieved the business will publish standards for Silver certification. This is a 3-year journey to establish excellence in every Ardent depot and put us on the right path to becoming world class and several steps closer to our vision of being the UK's premier hire company.
The next depot that looks like it will achieve Bronze certification is Bristol, unless of course, someone else gets there first!
To our Warrington colleagues, congratulations, well done and thank you for your hard work. We've also had some fun along the way! Great result!!
0 Comment
---
Blog Archives
In an increasingly competitive business landscape, companies across industries are constantly...