Toyota FDF25 Review
Date: 09/05/17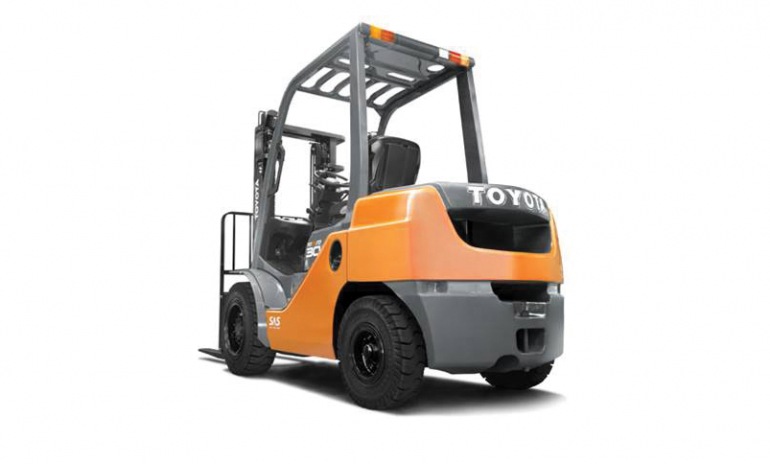 If you are looking for a forklift that has been designed and built to take on the most challenging environments and handling applications, the Toyota FDF25 fits the bill. It is fuel efficient, at the high end of performance and capability and offers low emissions as standard.
This model has been painstakingly designed to be one of the safest, most efficient forklifts on the market today. It provides increased visibility for the user, which increases effectiveness and productivity.
Easy to Control – Just below the steering wheel can be found the forward/reverse level, making it very easy to change direction, with just a flick of your fingertips. This helps to reduce tiredness for operators working long hours on one vehicle.
Flexible Steering – The tilt steering that operates this forklift gives the operator ultimate flexibility and the ability to adjust until each individual is at his or her most comfortable.
Overhead Guard – Safety is always a priority and the overhead guard is fully integrated to provide the highest levels of protection, whilst also improving durability and strength of the chassis when operating on uneven surfaces.
Easy to Maintain – Built for ease of maintenance the Toyota FDF25 has quick and simple access to the engine service points. This ensures that downtime is always kept to a minimum.
To find out more about this particular forklift model or to discuss our full range of forklifts and telehandlers, contact the Ardent customer service team today. We'll be happy to guide you to the right machine to match your specific needs and requirements.
0 Comment
---
Blog Archives
In the dynamic realm of construction, where precision and efficiency are paramount, Ardent Hire's...