Top 5 Plant Hire Excavators
Date: 17/08/16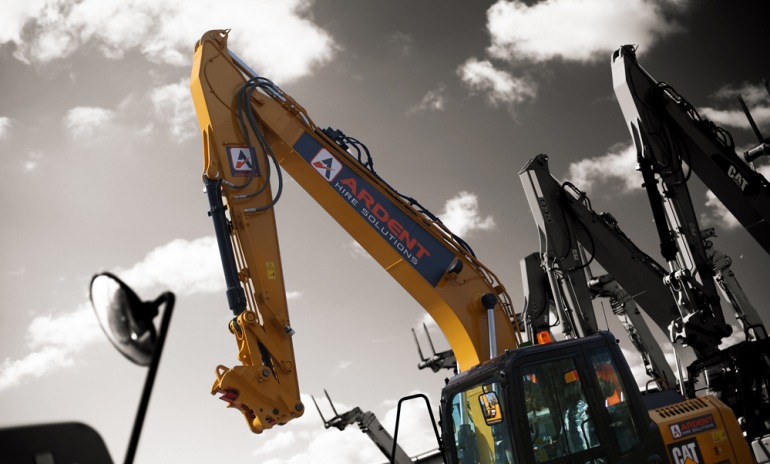 Top 5 Excavators
Ardent now have one of the largest fleets of excavators in the plant hire market. Below is a guide to the top 5 excavators in our fleet.
CATERPILLAR 308 E
This high-performance excavator has a small turn radius, and a swing boom which offers increased levels of versatility and control, allowing you to work in the most confined spaces. Its Tier 4 engine is fully compliant with the latest emissions regulations.
KUBOTA KX080-4
The Kubota KX080-4 provides all the power you need to get the job done. The direct injection engine helps to maximise digging ability, while the fuel injection system and DPF muffler help to reduce fuel consumption, exhaust emissions and noise levels.
HITACHI ZX85 US-5 SWING BOOM
Hitachi has developed a reputation for building top-quality machines for the construction industry. The ZAXIS 85US swing boom is specially designed to provide the best levels of comfort, durability and productivity. The HIOS III hydraulic system provides improved fuel consumption and improved lifting performance when compared to previous Hitachi models.
KOMATSU PC138US-10
The Komatsu PC138US-10 has a near-zero tail swing which makes it ideal for working in tight spaces, such as on bridges or next to roadways. At the heart of the Komatsu PC138US-10 is an EU Stage IIIB engine platform, which delivers high levels of performance while also meeting international emissions regulations.
JCB 3CX SITEMASTER BACKHOE LOADER
The JCB 3CX Sitemaster is a classic excavator. It offers a dig depth of 5.46m and features a turbo engine and 4-in-1 bucket. The Site master also offers air conditioning and a smooth ride system for the comfort of the operator.
If you are interested in hiring an excavator, contact Ardent today.
0 Comment
---
Blog Archives
In the dynamic realm of construction, where precision and efficiency are paramount, Ardent Hire's...