Thwaites Dumpers from Ardent
Date: 16/06/16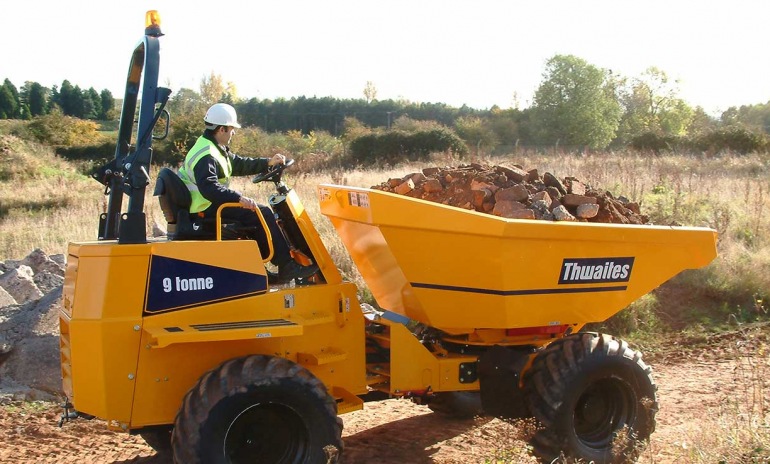 Get the dumper you need, exactly how you want it, from Ardent's huge range, with next day delivery nationwide
By amalgamating Fork Rent and Once Call, Ardent Hire Solutions has created one of Britain's biggest hire fleets, and we're adding to it all the time as part of our £100m investment programme.
Which means you can choose from over twenty different dumpers to give you exactly what you need, without compromise. You can choose your handling weight, from 1tonne to 10tonnes, choose the way you deliver your load, with straight or swivel buckets, choose all-terrain 4 x 4 or track propulsion, and you can even choose an enclosed or open cab
Make Ardent your first choice
Whichever dumper you choose, make sure you choose it from Ardent for the very best in service and support. Our nationwide network of depots offers next day delivery on all orders placed by 1pm, plus full service and support throughout your hire. We understand the construction industry and we know how important it is to put problems right promptly, to keep your site moving.
If you're unsure about the best dumper for you, just talk to our expert team. Ardent staff have decades of experience in the hire industry, so they can recommend the very best dumper for your site from our huge range.
One of our most popular dumper brands is Thwaites, with four different dumpers available to suit a range of sites.
Alldrive 1 tonne Hi-Tip
The latest machine to be added to our fleet of 4 x 4 dumpers has surprising versatility, with a width of just 982mm enabling it to be driven through a doorway that is just 1 metre wide. This flexible machine has a capacity of 500 litres and a maximum load-over height of 1.9m, and is powered by a Yanmar water-cooled diesel engine, with column-mounted direction control and a top speed of 7.5mph.
Alldrive 3 tonne Dumpers
Our versatile 3 tonne Thwaites dumpers give you the choice of front tip or power swivel material delivery. Both have an impressive capacity of over 1600 litres and both are driven by powerful engines that can help tackle any terrain on site.
The 3T power swivel has the added versatility of a skip mounted on a ball bearing turntable, allowing powered rotation through 180° using a single, dual axis control lever.
Alldrive 6 tonne Power Swivel
For added maneuverability, choose the 6 tonne power swivel dumper, with a skip that can be turned through 180° to deliver its load. This feature provides far greater versatility and working speed, increasing productivity across your site.
The 6 tonne Power Swivel has a Deutz TCD 3.6 litre, water-cooled four cylinder engine with electronic fuel injection. This delivers power and performance, while also protecting the environment, with a Diesel Oxidisation Catalyst system ensuring EU Stage IIIB emissions compliance.
Alldrive 9 tonne / 10 tonne Front Tip
When you need some real muscle around your site, choose either the Thwaites 9tonne or 10tonne Front Tip machines. With a capacity of 4600 litres and 4700 litres respectively, these are serious dumpers that make light of the heaviest loads, reducing job time and increasing productivity.
Both machines boast powerful Deutz 3.6 litre air-cooled, turbocharged, fuel injected, delivering 114 bhp for the 9 tonne and 121 bhp for the 10 tonne version. Yet despite the impressive power, the Diesel Oxidisation Catalyst and PowerCore air filter still manage to reduce emissions to protect the environment and meet stage IIIB emissions regulations.
Thwaites dumpers demonstrate the range available from Ardent, and with a similar choice available from other leading manufacturers, such as Terex and Ausa, you can count on us to have the perfect dumper for you.
Talk to our expert team today and see how we can help you get more from your hire, more from your team and more for your money.
0 Comment
---
Blog Archives
In the dynamic realm of construction, where precision and efficiency are paramount, Ardent Hire's...