The secret that hire companies don't want customers to know
Date: 30/06/20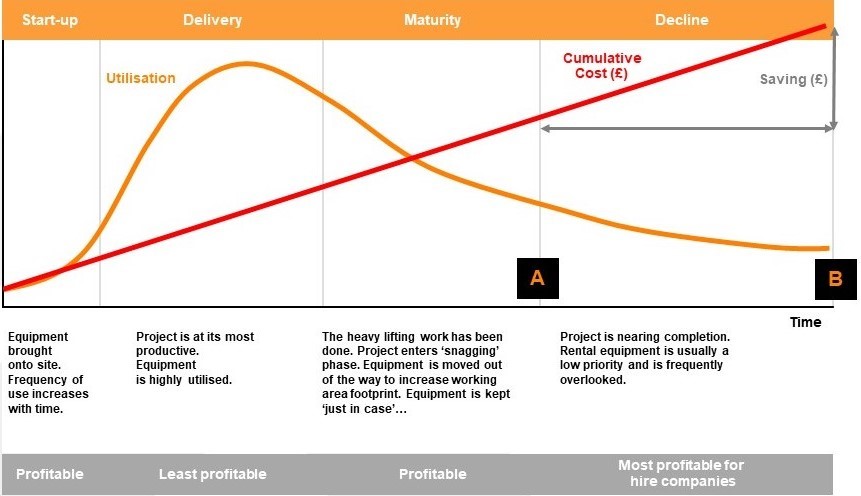 Hirers want customers to rent equipment for as long as possible. After all, the longer the equipment is rented, the more money a hire company makes. That much is obvious. As a project nears completion, and equipment is used less, the hire is at its most profitable for a hire company.
It's no wonder then that hire companies might be reluctant to point out to customers that they are no longer using their equipment and that they should offhire it. That's like shooting yourself in the foot!
However, that's exactly what Ardent's Site Manager software does.
The system is configured to automatically send out alerts to customers when their utilisation drops below a certain point, prompting them to offhire equipment and save themselves money.
In some cases, the savings can be considerable, especially where equipment has been moved out of sight to make way for more high-profile activities. On occasion, keeping equipment on a 'just in case' basis for snagging work can be justified, in other cases not.
Several Site Manager software users offhire their equipment when prompted and instead they pool snagging work that can be done as a single job later. They find that the reduction in hire costs more than offsets the additional delivery and collection costs, thus saving them money and reducing their total project costs.
And because they deal with a company like Ardent, that has one of the largest fleets in the UK, they can be assured of availability when they need the equipment later on.
This is just one feature out of many that are available from Ardent's Site Manager. The multi-award-winning software is now widely recognised as the leading system for plant users to improve their productivity and safety whilst reducing operating costs at the same time.
If you would like a demonstration of Site Manager then why not give us a call or drop us a line and we'll be pleased to show you how we can help you save money.
0 Comment
---
Blog Archives
In the dynamic realm of construction, where precision and efficiency are paramount, Ardent Hire's...