The Komatsu PC138US-10 Excavator from Ardent
Date: 05/08/16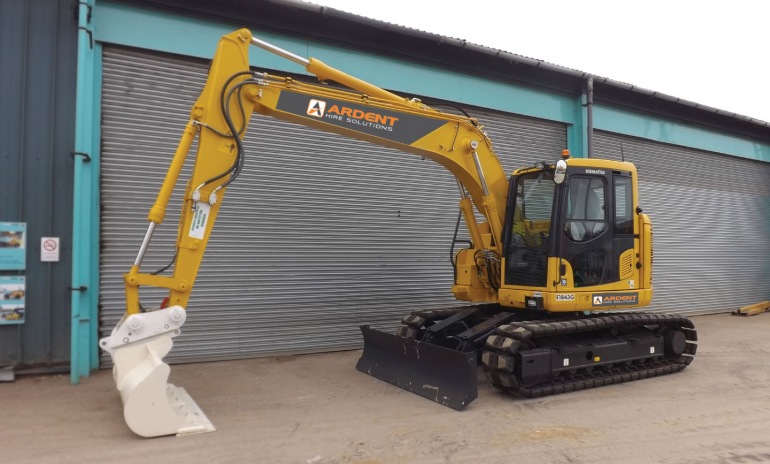 The PC138US-10 excavator from Komatsu features an ultra-short tail swing design, which is ideal if you are working in confined areas. Its near-zero tail swing radius makes it the perfect machine if you are working on busy roadways, in confined urban areas, or on bridges with limited space.
Aside from its impressive swing capability, the PC138US-10 also offers great lifting and digging power when compared to other excavators. The choice of six different working modes, combined with new engine technology, means that the PC138US-10 is 7 percent more fuel efficient than previous models.
Versatility
The PC138US-10 excavator is highly versatile. It can be fitted with a wide range of attachments such as breakers, buckets and demolition tools, which means that this machine can perform a range of different on-site roles, reducing your need to hire other plant and equipment. The PC138US-10 can also be fitted with a second auxiliary line for those attachments which need extra hydraulic actuation.
Efficient and Environmentally Friendly Engine
The PC138US-10 excavator features ecot3 engine technology which helps to reduce the volume of particle emissions into the atmosphere, improves fuel consumption and results in lower noise levels when the machine is in operation. The SAA4D95LE-5 engine also meets EU Stage IIIA and EPA Tier III emission regulations.
The PC138US-10 excavator offers high levels of productivity and performance, helping you to get the job done.
Contact a member of the Ardent team today to discuss hiring a Komatsu PC138US-10 excavator.
1 Comment
---
Blog Archives
In the dynamic realm of construction, where precision and efficiency are paramount, Ardent Hire's...