The effectiveness of NPS
Date: 06/04/21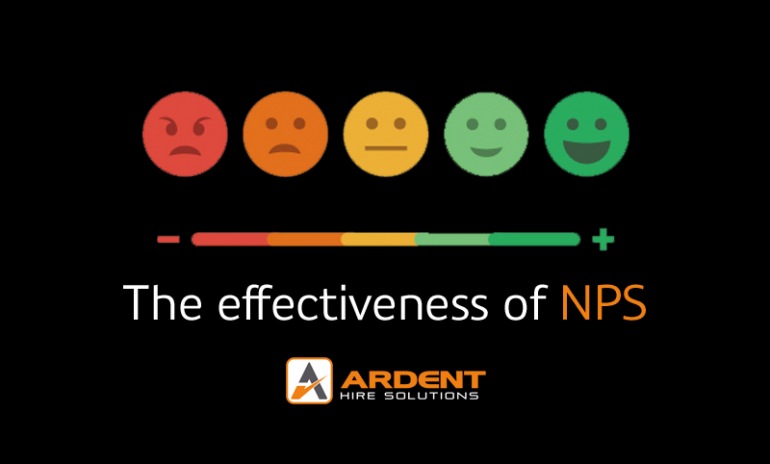 By Jeremy Fish, CEO
There's a lot of talk about NPS in the hire industry right now as hire providers are increasingly using customer satisfaction and advocacy to promote their services. Ardent has played a leading role in this having implemented NPS at the beginning of its journey to become the UK's premier hire company. This is something that is deeply ingrained in Ardent's culture. Ardent's senior management has used NPS for many years as a tool for prioritising business improvement and forecasting business growth.
Ardent's view is that NPS is only effective if it is measured by an independent third party without any temptation of manipulating results. It is also only effective if it is measured as part of day-to-day operations.
One company I know used to measure NPS twice a year. It employed a consultancy at great cost to do this. The sales teams quickly got wise and entertained customers with lunches to gain favour before surveys were despatched. Not surprisingly, the results were excellent. Other companies measure NPS quarterly. Some select a sample of customers to survey once a week or once a month.
Ardent's view is that measuring NPS in this way is nonsense. NPS is only meaningful if it is operationalised and measured daily as part of the customer experience. At Ardent we measure customer advocacy at the end of each hire, during the hire and after field service calls. Customers have the option of opting out, if they wish, and we take great care to ensure that we don't over-survey customers. We don't have any bias in our survey samples whatsoever. All surveys are despatched and collated by an independent third party.
The actual NPS score is only one part of a customer survey response. We get a lot of insight from the comments that customers make, both good and bad. As well as resolving issues we use NPS to thank colleagues for a job well done. We also thank customers for their business. In a world that increasingly doesn't have time to pause or slow down, a few more 'thank-yous' wouldn't go amiss.
NPS is firmly embedded in our organisation. We share NPS with colleagues across our organisation daily. We rank depots in order of their NPS. We use NPS to thank and reward people. And our desire to improve NPS even more encourages a healthy obsession with detail that helps us to deliver an outstanding customer experience, time after time, right across our business.
0 Comment
---
Blog Archives
In the dynamic realm of construction, where precision and efficiency are paramount, Ardent Hire's...