The Cat 308E2 CR SB Mini Hydraulic Excavator from Ardent
Date: 18/07/16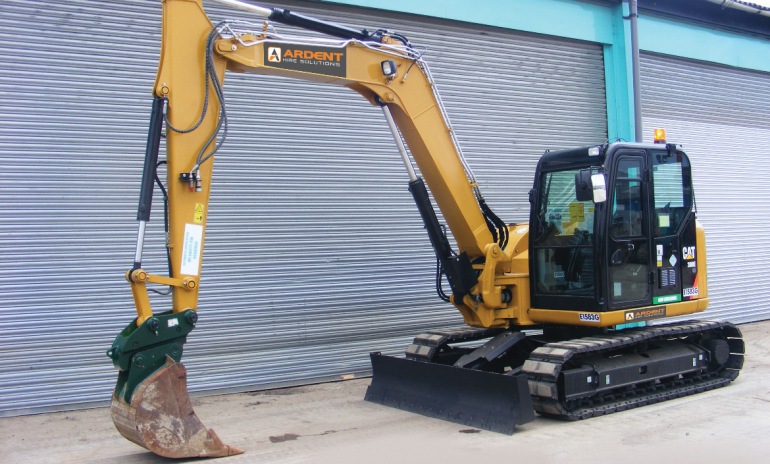 The Cat 308E2 CR SB Mini Hydraulic Excavator is one of the most popular pieces of machinery in the Ardent fleet. It offers great performance, a compact radius which allows you to carry out construction and excavation work in even the most confined spaces, and features the new state-of-the-art COMPASS display panel.
Low Emissions
The 308E2 is the first piece of equipment from the Caterpillar Mini Hydraulic Excavator range which meets both US EPA Tier 4 and EU Stage IIIB emissions standards, which makes it one of the greenest machines on the plant hire market.
Improved Control and Efficiency
The flow sharing and load sensing High Definition Hydraulic System, which is linked to the ergonomic joysticks in the cab of the 308E2, offers a vastly increased level of control, which in turn reduces inefficient use of power during digging and moving operations. This results in fuel efficiency being improved by up to 10 percent, and also improves the productivity of your onsite workforce.
COMPASS System
The 308E2 features a ground breaking control panel called COMPASS. The COMPASS system provides a comprehensive overview of different areas of the machine when it is in operation, making it easy to operate several systems simultaneously.
Adaptability
The Cat 308E2 is an excavator which is compatible with a large range of Cat Work Tools such as buckets, compactors and hammers. This means that it is highly adaptable, so that one piece of plant can perform a variety of roles, reducing the need to hire a large number of different machines to complete different tasks.
Contact us today to find out more about hiring a Cat 308E2 excavator.
0 Comment
---
Blog Archives
In the dynamic realm of construction, where precision and efficiency are paramount, Ardent Hire's...