The benefits of a modern fleet
Date: 24/05/21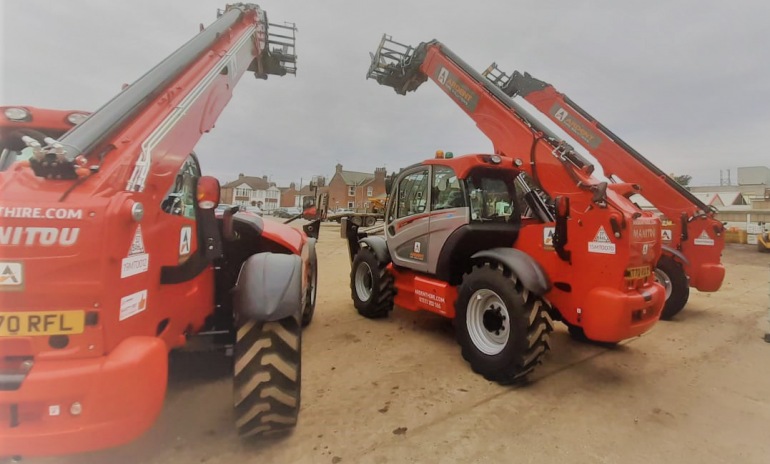 Ardent's fleet is one of the most modern and best specified in the industry. Having spent over £250m on new equipment in the last 4 years Ardent shows no signs of slowing its investment as shown by its recent order for over 500 telehandlers from JCB, worth over £26m.
Gareth Clements, Operations Director, says, "Over the past 4 years we have gone to great lengths to minimise variation in our fleet by working with a select number of leading OEMs in each of our product categories. We're fussy about what we buy and who we buy it from. When customers hire from us they always know that they'll get usually one of two brands. And that's important because our customers don't want to be receiving equipment from a different manufacturer every time they hire it. This is confusing for operators who then have to be familiarised again in a different set of controls."
By minimising variation in its fleet Ardent provides a consistent customer experience. Clements adds, "By working with a select number of OEMs we can suggest design improvements and ways to create a better operator experience. The OEMs are much more likely to listen when you're buying a lot of equipment from them. And generally speaking, our experience with them has been very positive."
Leigh Webb, Sales Director, notes that plant hirers provide equipment whose specification differs greatly from machine to machine. Webb comments, "Even on telehandlers where you would think there isn't much opportunity for variation, you'd be surprised at the options available. At Ardent we tend to standardise on top specification for all our equipment. For example, all our telehandlers come with air-conditioning. You might not think that amounts to much, but in summer, temperatures in the cab can easily reach 40oC. Although you can reduce the heat by opening the telehandler window we advise against this, particularly on sites where there are dust issues."
Ardent's telehandlers are also supplied with chassis-sway levelling which is a micro-processor controlled feature that levels the telehandler before any lifting operations take place. This enables an operator to park a telehandler on a slope and level the machine which makes lifting operations considerably safer. Gareth Clements comments, "People often overlook chassis-sway levelling yet it is one of the most useful functions on a telehandler. As well as improving productivity it makes for a much better and safer operator experience."
Newer equipment is inevitably more fuel efficient and carbon friendly. Ardent's fleet already includes Stage V machines which are the most carbon efficient diesel engines available today. And for those customers that are looking to further minimise their carbon impact, Ardent offers a full not-for-profit carbon offsetting service in conjunction with its partner ClimateCare.
Ardent's fleet consists of 5,000 telehandlers, excavators, dumpers, rollers and rototelehandlers. Although these are primarily self-drive, Ardent is increasingly providing operators with its equipment since the launch of its new operator service just a few months ago. Gareth Clements concludes, "With one of the most modern and best equipped fleets in the UK today, customers can be assured of top quality and specified equipment, superb reliability and performance and excellent service to ensure that their projects are delivered on time and to budget."
And for Ardent's customers that's extremely good news.
0 Comment
---
Blog Archives
In the dynamic realm of construction, where precision and efficiency are paramount, Ardent Hire's...