Rollers for Any Surface from Ardent
Date: 09/06/16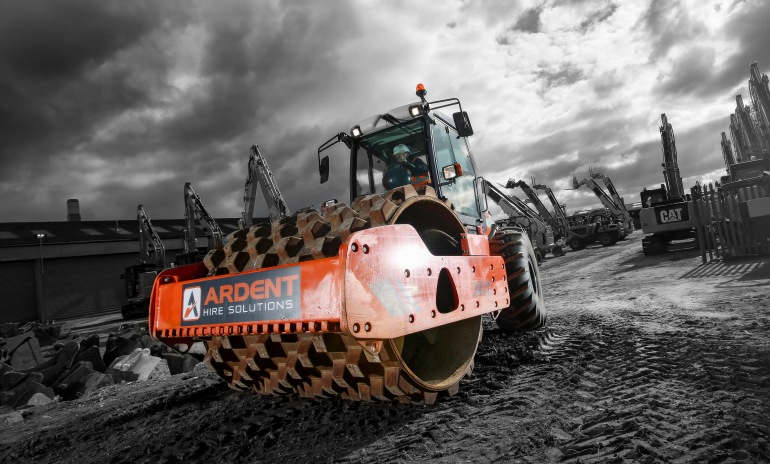 When it comes to compacting or levelling a surface, you can be sure of a smooth job with Ardent.
Ardent Hire Solutions brings together the extensive roller stock of One Call Hire and Fork Rent, along with brand new equipment from our £100m investment programme, to create a huge hire fleet of rollers.
Whatever the material, whatever the location, the Ardent roller range has the machine you need to make easy work out of compacting or leveling any surface. Ardent has no less than 13 different models to choose from leading manufacturers like Bomag, CAT, Ammann and Hamm.
Trust Ardent Rollers
Ardent's expert team will help you choose the best roller for the job, from the precision of 630mm walk behinds, to all-conquering 2200mm drum machines that can make a real difference to on-site productivity.
All our rollers are selected for their performance, safety and operator comfort, and our fleet is one of the youngest and best specified in the industry, so you can be sure of the very best for your team.
Whichever model you choose, you'll get next day delivery on all orders placed before 1pm, plus the reassurance that all rollers are maintained to the very highest standards by our in house engineers.
Let's take a look at two of our most popular rollers, one from each end of the scale:
RAMMAX 1504
The RW 1504 is the best walk-behind trench roller from the RAMMAX range, with its powerful diesel engine, two operating widths and drums which can hold cohesive or granular materials. The RW1504 also features skid steering, which turn 360 degrees on the spot, making it highly manoeuvrable and versatile, especially on small sites. To make the most of this feature, it also comes with a solar powered remote control, which can be used at a distance of up to 15 metres.
The RW1504 is also one of our most dependable machines, since it doesn't have any parts which are subject to wear, like toothed drive belts or a clutch. This makes it much more reliable and reduces downtime caused by maintenance and repair.
CS54 Soil Compactor
For larger sites, the CS54 Soil Compactor from Caterpillar maximises productivity with heavy duty, high speed compaction. It features proprietary eccentric weights, which deliver superior compactive force and grading, in a pod-style vibratory system that makes servicing quicker and easier to get you back to work fast.
At Ardent, we value sustainability as one of the pillars of our company, and the CS54 helps us to deliver that for our customers too, with its advanced Cat C4.4 Engine with ACERT Technology. This highly efficient four-cylinder engine provides all the power you need to ensure a high level of on site performance, along with outstanding reliability and operating economy, yet still protects the environment by generating lower emissions.
As you can see from these two examples, there is much more to rollers than you might think, with a range of state of the art features now available that can make life easier, more productive and more sustainable, whatever the job.
Talk to our expert team today and see how we can help you get more from your hire, more from your team and more for your money.
0 Comment
---
Blog Archives
In the dynamic realm of construction, where precision and efficiency are paramount, Ardent Hire's...