Mini-Excavators Affordable Versatility
Date: 15/01/18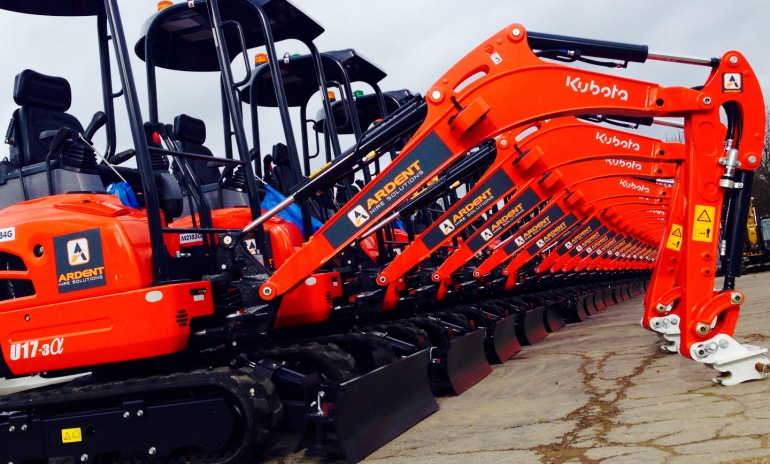 A mini-excavator is a piece of machinery that is used in heavy construction work, for digging and moving soil. Ardent has several mini and midi excavators, and their range is one of the largest in the country.
Kubota K008-3: Super-compact, highly reliable. This machine has enhanced operator protection. It's the best mini-excavator for tough jobs when space is limited.

Kubota U17-3: With this excavator, you'll have the versatility to take on almost any task. It has excellent digging depth, with 360° swivel capabilities, and smooth control.

Caterpillar 305 E: The 305E features fingertip control for the boom swing, and auxiliary hydraulic functions, making operation easier while providing floor room for the operator's feet and legs.

Komatsu PC55MR-3: This user-friendly machine has top-class performance. Perfect control, fast, precise movements, and a spacious working environment.

Kubota KX57-4: The most powerful excavator in Ardent's mini range. It's versatile, and designed with excellent stability to work with a variety of attachments.

Hitachi ZX29 U-3: This series has a rotating back, which allows for efficient operation in confined spaces. Additional counterweight is included as standard for added stability when using a long or special accessory.

Ammann-Yanmar ViO33: True Zero Tail Swing, neither the counterweight or front part of the upper frame exceeds the width of the crawlers. The VIPPS progressive 3 pump hydraulic system gives powerful, simultaneous operations.

Ammann-Yanmar ViO50: These machines are fitted with an improved boom to allow for greater reach. Highly elastic steel plates completely protect all cylinder rods to resist any shocks.
0 Comment
---
Blog Archives
In the dynamic realm of construction, where precision and efficiency are paramount, Ardent Hire's...