Kick off a summer of fantastic football with Ardent!
Date: 01/06/16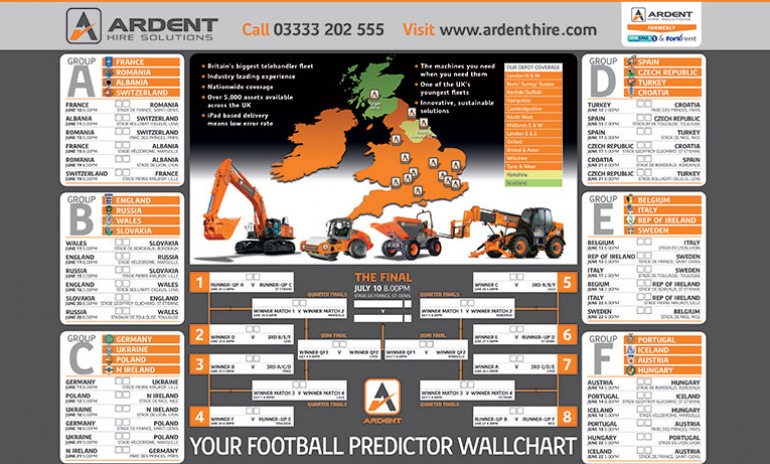 Whether you're supporting England, Wales or Northern Ireland this summer, download the handy Ardent football wallchart now, and keep right up to date with all the action and results from France.
It all kicks off on Friday 10th June, with France vs Romania, and the festival of football continues right through to the grand final at the Stade de France on Sunday 10th July.
Everyone's a winner with Ardent
With Ardent Hire Solutions on your team, you can always be sure of achieving your goals. Whether you're digging deep or reaching higher, the Ardent squad has the strength in depth to help you make the right selections every time. And with Britain's biggest telehandler fleet, we can help you lift much more than the trophy!
Like all great teams, Ardent has a top class backroom staff, keeping all our top performers fit and fixing injuries fast to keep you at the top of your game. Plus we've got some of the best strategists in the business to help you come up with a winning formula that will give your team the edge.
So download your Ardent football wallchart now and get set for a super summer of soccer action from Europe's biggest and best teams.
0 Comment
---
Blog Archives
In the dynamic realm of construction, where precision and efficiency are paramount, Ardent Hire's...