Introducing The Ardent Plant Hire App
Date: 14/06/21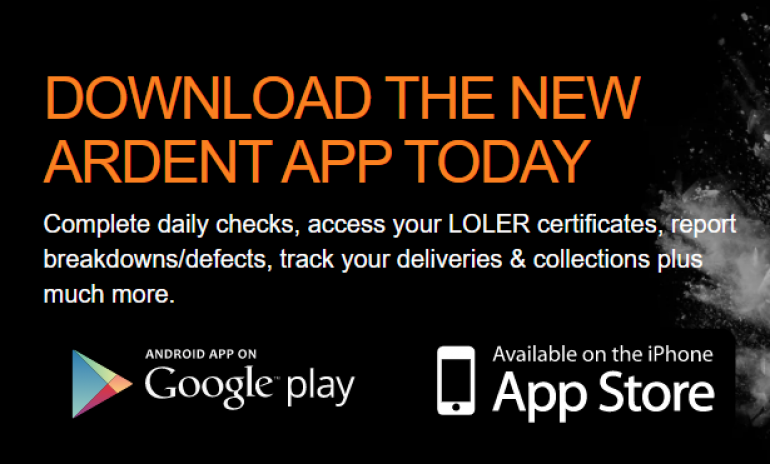 Introducing the Ardent plant hire app
Ardent Hire Solutions are delighted to launch a brand-new app designed to make life easier than ever for plant hire customers. The app includes a wide range of features designed around the plant hire lifecycle. Each step on the Ardent app will help to increase productivity, cut costs and reduce the risks to workers on site. Overall, it will make a big difference to the way you operate and monitor your contract plant hire UK, yet it is free to download and free to use.
With you at every step
Ardent have always worked hard to provide the highest levels of customer service, from first contact with one of our 11 depots across the UK, through your choice of hire from our £200million fleet, to offhire and beyond. The new Ardent app puts all of this service and support in the palm of your hand. It has an intuitive interface that is so simple to use that it will quickly become your default way of managing your equipment from one of the UK's leading plant hire companies.
What does the plant hire app do?
We know that site managers and foremen are incredibly busy, so we've designed the Ardent app to enable users to deal with a range of everyday plant hire tasks without having to return to the site office. With the Ardent app, you can:
Perform daily checks on all contract plant hire uk
Report breakdowns
Track orders, deliveries and collections
Manage invoices and accounts
View LOLER Certificates
Download machine manuals and technical specifications
Complete Familirisation
View certificates of familiarisation completion
Easy familiarisations
The Ardent app not only helps managers and foremen, but also provides key information for operators. Users can directly access Support material for each piece of equipment. This allows users to access familiarisations quickly and easily without leaving the site, improving safety and performance and increasing productivity. The app also works with QR codes, placed clearly on each piece of equipment, providing links to the Ardent TV Site portal.
The same QR codes can also be used to view useful one-minute, multi-language instructional videos designed to help operators to fix common problems without waiting for field service support. This significantly cuts downtime on site, getting your team back to work without any unnecessary delays.
How do I get the Ardent app?
The Ardent app is free to download and free to use on both Apple and Android devices:
For iPhone, iPad and iPod Touch – visit the App Store. You need to be running iOS 10 or later.
For MacBook and iMac - the Apple version will run on macOS 11.0 or later if you have the M1 chip.
For Android devices – visit the Google Play store. You will need to be running Android 4.1 or later.
Regular updates
We are constantly updating the Ardent app with exciting new features to make your contract plant hire UK experience even easier. Once you have downloaded the app, make sure you allow automatic updates to make sure that you benefit from the very latest version.
Ardent have only become one of the UK's leading plant hire companies by listening to our customers and delivering exactly what they want. So, if you have any feedback on the existing functions of the Ardent app, or if there is anything else you would like to see included, we would love to hear from you. Just email your comments to sales@ardenthire.com.
0 Comment
---
Blog Archives
In the dynamic realm of construction, where precision and efficiency are paramount, Ardent Hire's...