How to choose the right excavator for you?
Date: 05/08/19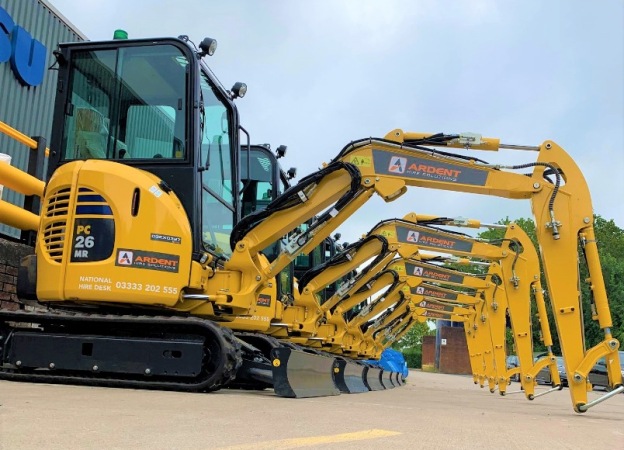 How to choose the right excavator for you?
Do you want the formula for the right excavator provider for you?
Every project is different and would need the correct excavator depending on the requirements. In this blog, we will run through the process of how to choose the right excavator provider for you.
Cost-Effectiveness
First things first. Choose a plant hire partner that works with you to manage costs and provide cost-effective solutions. With our excavator hire, you can cut costs, utilising the right type of machinery at different times of the project. With our award-winning Site Manager platform, we can help you manage your hired in excavator fleet by letting you know when machines are idling high, low utilised and used outside working hours. With the advanced telematics and machine information we provide our customers, we can help you save every penny. We have a wide range of attachments that can increase productivity on-site with one machine so that you minimise the number of different machines you need on-site.
Attachments
A range of attachments can be utilised throughout your project. Choose a plant hire provider that have a wide range of attachments. With our excavators, 3 buckets are included as standard. Our attachments can help you dig, break and drill during every phase of construction. For example, our breaker attachments can be used with all our excavators and can be used to break up material.
Our shaker buckets can help sort and separate mixed materials. Our grapple attachment is a perfect accompaniment to move mixed materials of all sizes, whilst our compactor plate helps to compact materials in trenches or on slopes.
To see the full list of our excavator attachments, click here.
Health and Safety
You must choose your excavator from a plant hire company who have a good track record of health and safety and provide the correct paperwork. This will give you peace of mind that the machines you hire, are safe, conform to the latest legislation and can be used without any worry. Here at Ardent Hire all our excavators/diggers are less than 2 years old. We are accredited to ISO9001, OHSAS18001, ISO14001 and SSIP standards and were more recently awarded RoSPA Gold. All our machines come with the correct paperwork and certificates required for you to undergo any project you are working on.
Transportation
It is important that you choose a plant hire company that can deliver your excavator as quickly and efficiently as possible. Choose a plant hire provider that operate their transport fleet so you can expect a reliable service. At Ardent Hire, we own and run 53 HGV transport units operating from 11 depots available nationwide. This enables us to deliver our excavators to you in the most reliable fashion.
Support
It is vital to choose a plant hire partner that has a national service capability. By having a mix of both in-house and external engineers strategically positioned across the country, you will have peace of mind that if any problems were to occur, you won't be waiting long for an engineer to attend site. With an average age of fewer than 3 years, our machines seldom breakdown. However, on the odd occasion, something was to go wrong, you need a plant hire company that can fix the problem or replace the machine as quickly as possible, reducing downtime and allowing you to maintain productivity.
At Ardent Hire, our fully trained Service Team are dedicated to offering you fast solutions, minimising any downtime you may face. We have 56 in-house plant engineers ready to attend callouts immediately, and through the long-term relationships we have built with our manufacturers, we have access to a further 800 national engineers to attend site when you need them. We have developed a digital platform that provides 'quick fix' videos allowing customers to remedy common faults on-site themselves. Through our Site Manager platform, customers can also identify potential problems before they occur, allowing us to offer pre-empted callouts to avoid downtime altogether.
Conclusion
What did you think of our advice on choosing an excavator supplier? Did you think we missed anything out?
To choose an excavator/digger you need the right budget, attachments, health, safety, transportation and support.
Our goal is to make it easier for you to choose the right excavator/digger for you.
For more information please feel free to contact the Ardent Plant Hire team today to access our wealth of specialist knowledge on plant hire. You can speak to us on 03333 202 555 or info@ardenthire.com.
0 Comment
---
Blog Archives
In the dynamic realm of construction, where precision and efficiency are paramount, Ardent Hire's...