How the Ardent App Makes Everything Easier
Date: 17/08/21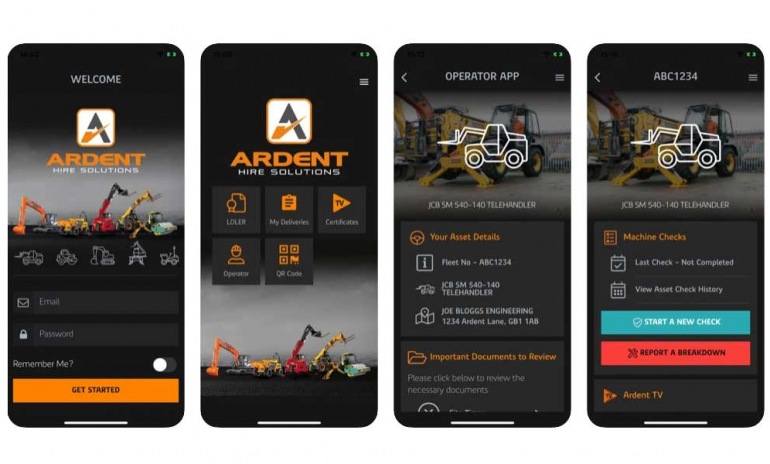 How the Ardent App makes everything easier
When we came to design the Ardent App, we had one simple aim: to make life easier on-site for everyone. Not just easier to organise everything from site health and safety, reporting breakdowns, to self-maintenance and finding solutions to fix common on-site problems. We wanted to make it easier to get to know our equipment, to understand its safety features and functionality, and to learn how to operate it effectively and productively across your contract plant hire.
We wanted to make all contract plant hire process as simple and straightforward as possible, from knowing when your delivery is arriving, to completing the paperwork involved. Better still, we wanted to make that 'paperwork' paper-free.
We're delighted to say that we've succeeded in doing all of this and more, making the new Ardent App the perfect partner for everyone on-site.
An app for everyone
The Ardent App is not just a management tool, although it is a huge help to site managers. It's not just a training tool, although it can walk your workforce through any piece of equipment or contract plant hire. And it's not just a digital manual, although you'll find it has all the technical spec you need. The Ardent App is all of this, in one easy use app that sits in the palm of your hand.
We've designed the app with the whole workflow in mind, but we understand that different team members need different information. That's why the smart system allows you to set up the Ardent App to serve each member of your team personally, giving them access to all the areas that are appropriate, while keeping sensitive information restricted.
Your direct link to Ardent
If you've got a smart phone, you now have access to everything that Ardent has to offer. There's no need to hike back to the site office to use the computer, and no need to wade through lengthy operator manuals or complete endless 'tick-box' forms. All the information you need is right there on your screen, with easy, intuitive operation that takes just minutes to learn. You can even call up technical and operator information instantly simply by scanning the QR codes on the equipment itself.
With the Ardent App on your phone you can track delivery and collections, monitor your account and access a whole range of documentation, help and advice. It's like having your local Ardent depot on-site with you, with all the salespeople and technical teams standing by to help.
Download the Ardent App now
To get the Ardent app for your team and raise your game right across your site, visit our website today, or download the app now, completely free of charge, at the Apple App Store or Google Play.
0 Comment
---
Blog Archives
In the dynamic realm of construction, where precision and efficiency are paramount, Ardent Hire's...