Compaction Roller Hire: The Options
Date: 05/02/18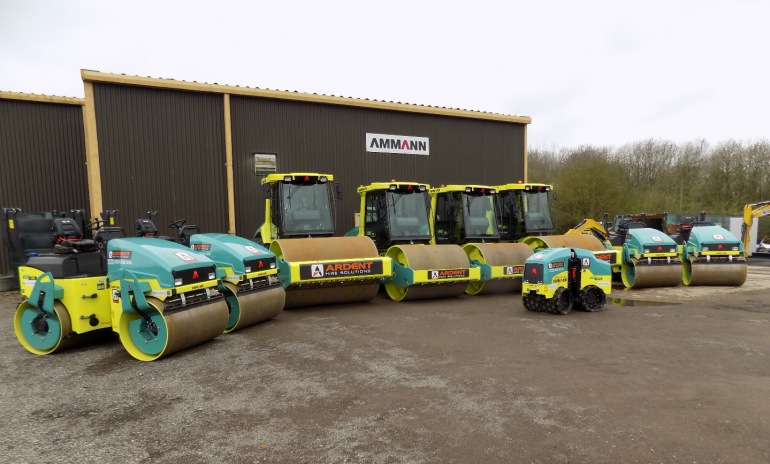 For easy levelling and compacting work, Ardent offers a range of rollers for hire. Our rollers can tackle almost any surface that needs flattening and we even offer additional pad foot drums when requested.
The Statistics
Here at Ardent, we have 7 different rollers on our fleet. Experts have confirmed that even a 1% increase in compaction can increase road life by 15%. We are positive that our fleet of rollers can achieve that 1%.
The Options
Our twin drum, self-drive rollers: ARX12 - 80cm, ARX26 - 120cm, and ARX45 - 140cm. We stock three sizes of our twin drum rollers, giving you more versatility in your production work. Our twin drum rollers provide better visibility for their drivers, due to their compact and sleek design. You can use any of these rollers for 8 hours, and still not breach the trigger levels set out by HAV/WBV.
Our single drum, self-drive rollers: ASC70 - 7T, ASC110 - 19T, and ASC170 - 19T. These rollers boast seats that are 50% rotatable, which reduces the risk of injury and stress to your drivers. Their engine hoods are electronic, for less manual handling, and more safety, and their fuel tanks are 40% larger than competitor's machines.
Rammax rollers have been designed in a range of sizes, to provide compaction to 5m – this is much more efficient than other rollers, which can only achieve 1m. They can bend and twist, which means each of its drums are always on the ground, with increased compaction productivity. They also have more vibration motors, allowing for constant, strong vibration, and better compaction.

.
0 Comment
---
Blog Archives
In the dynamic realm of construction, where precision and efficiency are paramount, Ardent Hire's...