Caterpillar Excavators
Date: 13/09/16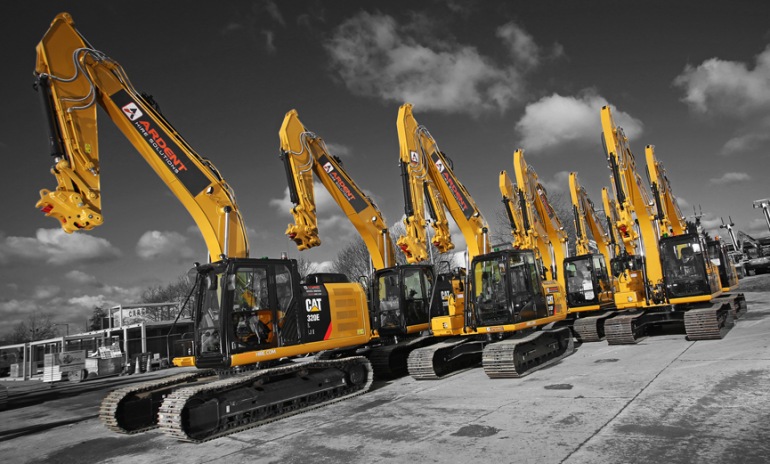 Ardent are proud to make the earth move for our customers by offering the Caterpillar 312E excavator for hire. This state-of-the-art machine delivers outstanding performance, reliability and sustainability from one of the leading names in earth moving and construction.
Caterpillar excavators have set the industry standard in for over a century, with the Caterpillar 300 series leading the way in since its introduction in the 1990s. Today, the Caterpillar 312E excavator combines this proud tradition with the very latest technology in plant hire.
A century of construction excellence
Echoing Ardent's own origins, the Caterpillar Tractor Company was formed as a result of the merger of two existing and highly respected firms: the Holt Manufacturing and C. L. Best Tractor Companies. Like Ardent, the new company brought together the best of its forerunners into a single industry-leading brand. This included the Caterpillar name, which had been in existence since the early 1900s, when a bystander commented that one of Benjamin Holt's modified steam tractors crawled across the ground like a caterpillar.
The parallels between our two companies continue well beyond our roots. Just like Ardent, Caterpillar grew at a rapid pace and went on to play a part in major construction projects. By the 1930s, Caterpillar excavators were being used to create iconic landmarks, such as the Golden Gate Bridge in San Francisco and the Grand Coulee Dam on the Columbia River in Washington State.
During World War Two, Caterpillar produced thousands of armoured excavators to support the advancing troops of the US Army and Allied Forces, and by the 1950s, Caterpillar had begun to expand worldwide. Today, the company is one of the world's leading manufacturers of plant, employing over 90,000 people worldwide. It sits proudly at number 59 in the Fortune500 and had an impressive turnover of $47bn in 2015.
An excavator for the modern world
Of course, the modern construction industry is as much about efficiency and sustainability as it is about raw power, and the latest generation of Caterpillar excavators delivers both with ease.
The Caterpillar 312E excavator has all the power you need, thanks to its 71 kW (95 hp) engine and maximum drawbar pull of 114 kN, yet it remains fully compliant with current EU Stage IIIB emission standards. Even when operating in high horsepower in high intensity applications, the 312E performs a similar amount of work while burning less fuel than the previous D Series model and produces fewer emissions.
The machine also includes the latest sustainability features, such as speed control and engine idle shutdown, which help to maximise performance while minimising fuel consumption.
To find out more about how Caterpillar excavator hire from Ardent Hire Solutions can improve efficiency on your site, contact our friendly sales team today or speak to your personal account manager.
0 Comment
---
Blog Archives
In the dynamic realm of construction, where precision and efficiency are paramount, Ardent Hire's...