Building Britain's infrastructure
Date: 31/05/16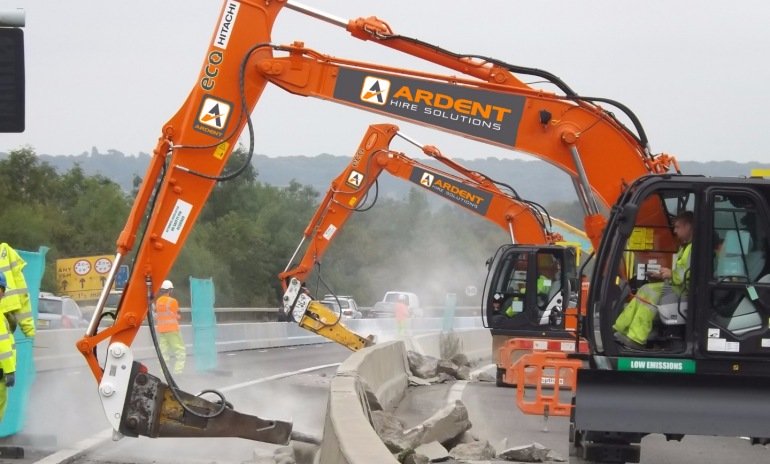 As our economy grows, Britain's businesses need an ever increasing capacity on our roads and railways to keep the country moving. Creating the infrastructure required to meet these demands, while also considering economic, environmental and local issues, often means pushing the boundaries of civil engineering to their limits.
So it's essential to pick the right team and equipment to accompany you on your journey.
When you partner with Ardent Hire Solutions, you not only get a one of the youngest, best specified hire fleets in the industry, but you also get one of the industry's most experienced teams. Ardent's experts have been there and done that, so they understand the challenges you face and they know what you need to get the job done.
Ardent experience
The Ardent management team has vast experience of supplying plant and equipment to premier UK infrastructure projects, including the £14.8bn Crossrail project, the M1 Motorway and countless other road and rail developments.
This direct, personal experience, gives them a unique insight that can only be learned first hand, and gives you a plant partner that has real in-depth understanding of your industry.
Taking on the challenges
At Ardent, we know that there's much more to an infrastructure project than simply building a bridge. Financial constraints, time pressures, health & safety and environmental issues all have to be carefully considered as part of the process.
That's why we don't just provide plant hire, we deliver bespoke hire solutions, tailor made to suit your project perfectly. Working in partnership, we can help you cut costs with strategic fuel planning, reduce downtime with one of the most reliable fleets available, and reduce emissions with a range of equipment all carefully selected for its sustainability.
Time is money
Every day on a major construction project costs thousands of pounds, so as your hire partners, Ardent works hard to keep things moving and ensure no time is wasted waiting for deliveries, repairs or maintenance.
We provide next day delivery on all orders placed by 1pm, so you can maintain momentum, and a dedicated fleet of field engineers on call around the clock to solve problems fast. What's more, our special relationship with major manufacturers, such as CAT, Hitachi & Kubota, give us priority access to their field engineers too, more than doubling the size of our support team.
Bridge the gap
Whether you are building HS2, or widening the M62, choose Ardent as your plant hire partner and we'll bridge the gap between simply delivering equipment, and delivering the full service and support you need to get the job done.
Talk to our team today and see the difference that Ardent's experience will make to your project.
0 Comment
---
Blog Archives
In an increasingly competitive business landscape, companies across industries are constantly...