Build better with Ardent
Date: 27/05/16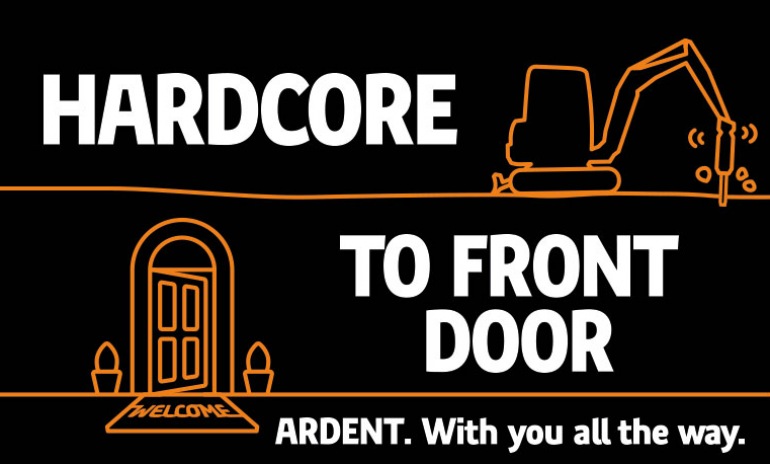 When you partner with Ardent, you get so much more than just plant hire; you also get service and support that goes above and beyond. Our expert team have decades of experience in the construction industry, and can offer original and innovative solutions to help you to tackle the challenges you face.
From next day delivery for urgently needed equipment, to sustainable solutions that help you meet strict environmental targets, Ardent understands the building business and we know exactly what you need.
With the combined resources of One Call and Fork Rent, plus brand new equipment from a £100m investment programme, Ardent Hire Solutions has all the equipment the housing industry needs. We're with you every step of the way, throughout the building process, from breaking ground and clearing the site, to topping off the roofs and tarmacing the driveways.
Hardcore...
When it comes to initial site preparation, Ardent has one of the UK's largest excavator fleets, with over twenty models to choose from, from leading manufacturers such as Hitachi, Caterpiller, Volvo, Kubota, and Komatsu. From the compact Caterpillar 308, ideal for smaller sites and limited access, to the mighty Hitachi ZX210LC with its phenomenal work rate, we have the perfect machine for any new development.
Ardent can also supply equipment for earth moving, including a choice of 1tonne to 10tonne dumpers, and compacting, with everything from versatile ride on compact rollers to the impressive Ammann ASC130 with its 2200mm drum.
...to front door...
Once your site is ready, Ardent can give your construction a real lift with the UK's largest fleet of telehandlers for hire. We have the largest JCB telehandler fleet in the UK and are continuing to bring more assets onto our fleet every week. These include our 4m to 20m range with the latest JCB EcoMAX engines. Additionally we have also got Manitou Roto Telehandlers which are versatile and cover the role of crane, forklift and access unit in one highly flexible asset, and can often be deployed where traditional cranes would not be able to operate.
Ardent's telehandler range includes both standard and ROTO telehandlers, which can distribute materials anywhere. Whatever you're lifting, Ardent telehandlers can help, from our wide range of 4m to 20m JCB EcoMAX telehandlers, the 12tonne capacity of the Manitou MHT10120, or the 32m reach of the Manitou MRT3255.
Ardent have recently invested over £15 million on brand new telehandlers so far this year to ensure our fleet remains the biggest and best available in the industry, so whatever you require, you can count on Ardent to deliver.
...and so much more!
That's why we're chosen by leading homebuilders across the country to supply plant and equipment to their new developments. They know that they can rely on Ardent to deliver on time, every time, with the right equipment at the right price.
So get the support and service, advice and expertise your site needs to meet the demanding deadlines of the modern building industry. Partner with Ardent and get the job done.
0 Comment
---
Blog Archives
In the dynamic realm of construction, where precision and efficiency are paramount, Ardent Hire's...