Benefits of a Telehandler
Date: 04/06/18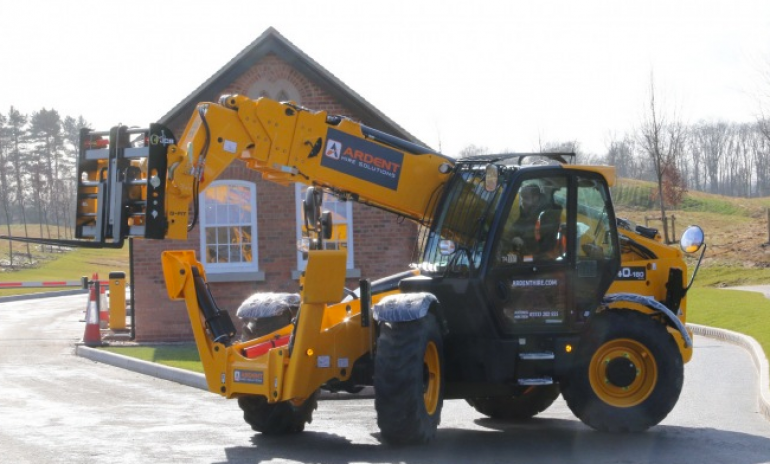 Telehandlers are one of the most popular machines in our fleet of plant hire equipment. Also known as a telescopic handler, the telehandler combines aspects of a forklift and a crane into a compact machine that offers a wide range of advantages.
Consisting of a telescopic boom handle with interchangeable attachment heads, a telehandler offers more reach and power compared to a forklift but enjoys similar manoeuvrability, giving it a fantastic balance between power, reach, and usability.
Let's take a closer look at some of the key benefits of a telehandler:
Capable of on-road and off-road driving
A Telehandler features four-wheel drive functionality, meaning it's possible to drive them on and off-roads. They're capable of moving on the roughest terrain imaginable while still being suitable for roads, making them very useful for construction, agriculture, and many other industries.
High load capacity and flexibility
A telehandler can lift several tons worth of materials, making them far stronger than similar sized crane machinery such as a cherry picker or forklift. Better still, the flexibility of the telescopic boom allows heavy loads to be lifted at great heights and lengths, unlike most other machinery that has a limited reach when providing so much power.
Impressive loading height and reach
One of the main advantages of a telescopic handler is the ability to lift loads to normally unreachable heights and lengths. As the boom handle on our range of telehandlers to hire can reach up to 20 metres in length, a telehandler can effectively transport materials to distances that would otherwise be impossible to reach using a single vehicle.
Versatility
With a wide range of attachments available, a telescopic handler is one of the most versatile mobile crane machines available. From forklifts to scoop buckets, there are several attachments that can connect to the end of the boom, giving a telehandler many different uses that make it incredibly helpful on worksites.

1 Comment
---
Blog Archives
In an increasingly competitive business landscape, companies across industries are constantly...