Barratt gives Ardent Supplier Excellence Award for Health & Safety
Date: 01/05/17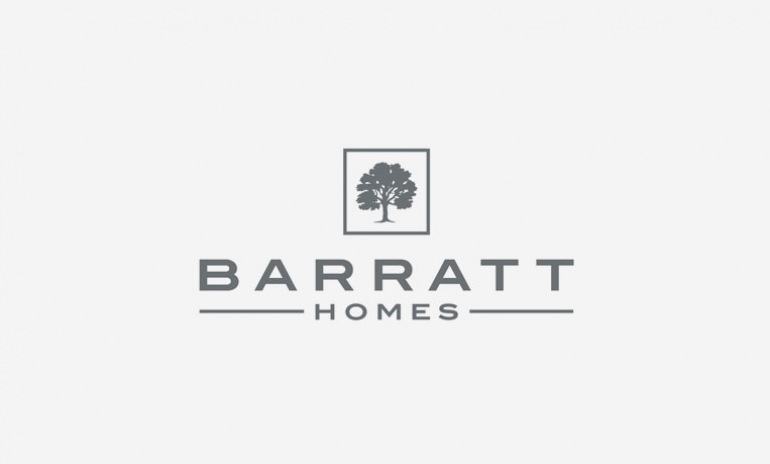 Britain's leading homebuilders, Barratt Homes, has named Ardent Hire Solutions as the winner of the 2017 Barratt Supplier Excellence Award for Health & Safety, in recognition of their outstanding record of service and support.

"Health and Safety is of paramount importance for Barratt and it is vital that our suppliers and sub-contractors recognise this and support our efforts to deliver safer workplaces, says John Adams, Group Procurement Director of Barratt Developments. Ardent Hire has worked hard with us to improve the safety of our sites through the high standard of both equipment and training they are able to provide, as a result we were pleased to be able to award them 2017 Barratt Supplier Excellence Award for Health & Safety."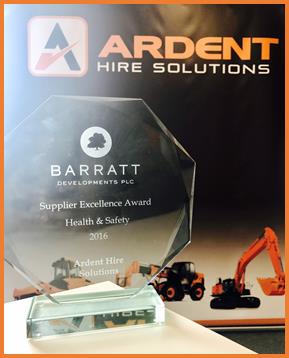 The work that Ardent has done to support Barratt has been recognised throughout their organisation. Ardent Hire Solutions are honoured to have been selected as the recipient of the 2017 Barratt Supplier Excellence Award for Health & Safety.

"To obtain such an achievement from one of the biggest Housing developers in the UK, and more importantly from one of our largest customers, is a true honor," said Ardent CEO, Jeremy Fish. "We have built a strong relationship with Barratt over the years, working with them as a supplier, a solutions provider, and most importantly as a partner. This award cements our capabilities as an 'excellent supplier', and I am delighted with all the hard work and commitment, from across the Ardent team, which has helped us to achieve this."

Ardent puts Health and Safety to the fore from the very start, purchasing only the very latest equipment with state-of-the-art health and safety features. The company also has a policy of regular replacement across the fleet, keeping all hire assets as up to date, reliable and safe as possible.

This focus on Health and Safety continues on site, with every Ardent delivery team fully trained to provide a full health and safety briefing on all equipment provided. It is company policy not to leave a site until the team are sure the workforce understands how to use equipment correctly and safely.

"As technology evolves, Ardent is working hard to keep ahead of the trends with solutions that can bring true value to our customers," explained Jeremy Fish. "We aim to be expert guides to new innovations and products that can improve your business efficiencies and lower your costs, while never losing sight of the Health and Safety of your team."

Ardent are the first plant hire company to have received a Health and Safety award from Barratt, reflecting the unique working partnership between the two companies, which goes far beyond the normal supplier/customer relationship. Through shared goals and an in-depth mutual understanding, Ardent and Barratt are able to deliver a safer workplace that is more effective and more efficient.
0 Comment
---
Blog Archives
In the dynamic realm of construction, where precision and efficiency are paramount, Ardent Hire's...