ARDENT WINS THE DIGITAL CONSTRUCTION EXCELLENCE AWARD AT THE 2021 CONSTRUCTION NEWS SPECIALIST AWARDS
Date: 22/10/21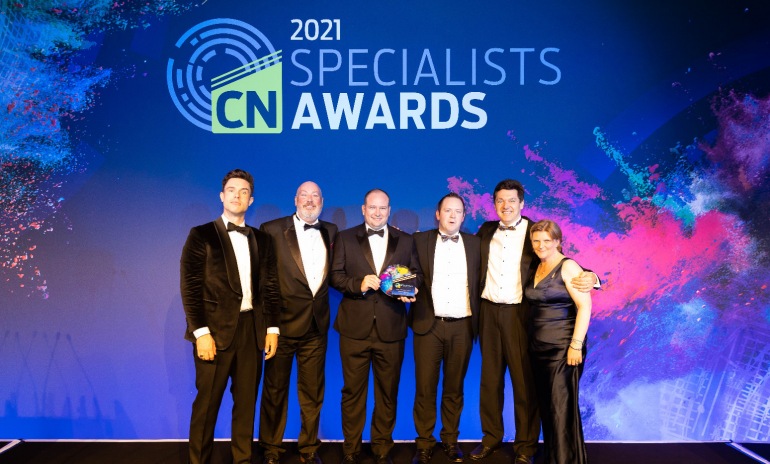 Ardent is excited to announce its success at the 2021 Construction News Specialist Awards where it won the Digital Construction Excellence Award for its customer portal Ardent InSite (AI).
The Construction News Specialist Awards showcase outstanding achievements and innovations by contractors in the construction industry. The event is held annually in London and is attended by over 1,000 people.
Ardent set itself the lofty goal of becoming the "Amazon of the plant hire industry" with its digital customer portal Ardent InSite. The goal was to deliver an end-to-end digital hiring experience, with attendant benefits including reduced costs.
The judges commented that Ardent "has transformed its business model with technology to improve the customer experience. The implementation of technology has seen the adoption and uptake across the entire business with clear client benefits."
Customers hiring equipment can track deliveries and collections in real time, displayed visually on a map in the style of Deliveroo or Uber, and can also monitor equipment locations during usage by their own employees. They can also specify needs, access documents, repeat orders, and raise service calls through the portal.
The judges also praised Ardent for "using technology to offset carbon and improve emissions performance".
Customer adoption has mushroomed from 100 registered users to 2,400 in the 15 months to March 2021.
Jeremy Fish, CEO, said, "AI provides customers with all the information they need to manage their hired-in equipment safety and productively. It's also completely integrated with our other platforms Site Manager, Ardent TV and the new Ardent Operator App to provide a seamless experience."
Fish adds, "AI is particularly effective for customers who hire multiple pieces of plant. On a single screen users can see all the information they need to manage their equipment efficiently. As well as reducing costs this reduces back-office administration, reduces errors and helps projects stay on plan."
The award builds on Ardent's earlier 2021 successes where it won the Best Sustainability and CSR Initiative at the Hire Excellence Awards organised by the Hire Association of Europe. Ardent was also recognised by the European Rental Association (ERA) where it won awards for the Best Digital Innovation and Best Health and Safety Innovation at a ceremony held in Amsterdam. In 2019 Ardent's Site Manager was recognised at the Construction News Awards, where again, it won the Digital Construction Excellence award.
1 Comment
---
Blog Archives
In the dynamic realm of construction, where precision and efficiency are paramount, Ardent Hire's...