Ardent's digitally enabled, carbon neutral powered access fleet sets new standards
Date: 08/11/22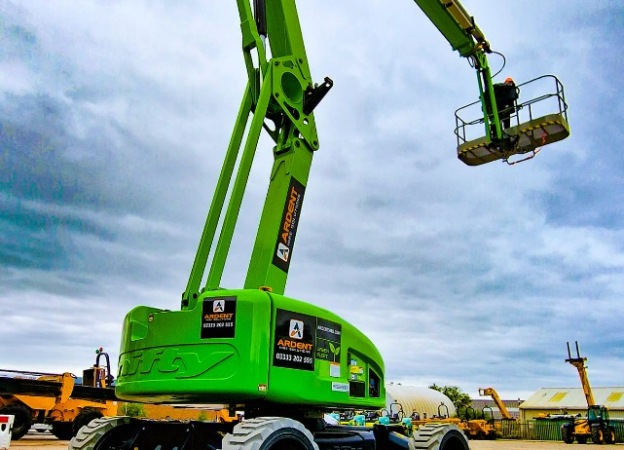 Ardent's powered access fleet is a specialist, niche fleet that caters for an exclusive set of customers who want carbon neutral hires and performance data so they can maximise productivity and safety while reducing operating costs at the same time.
Partnering exclusively with Niftylift, Ardent is offering HR12s (light and narrow versions), HR17s (again, light and narrow versions), HR21s and HR28s. All of these are electric only, apart from the HR28 which is hybrid. Here, Ardent is offsetting the emissions at its own expense.In addition, Ardent offsets the emissions from its 55 HGV fleet so that all deliveries and collections to customers are also carbon neutral.
Gareth Clements, Operations Director, says, "We're only interested in providing electric machines or, in the case of the HR28, hybrid models where we offset emissions to provide a carbon neutral offering. We've had a phenomenal response which has far exceeded our expectations."
Ardent's powered access fleet is fitted with Trackunit and fully integrated with its multi-award-winning platform, Site Manager, which allows users to track equipment performance from a single screen. Ardent has spent the last 18-months developing a new set of reporting protocols that enable users to track behaviours that potentially impact safety, productivity and cost. Performance data is also available as an API which allows customers to import it into their own systems.
Jeremy Fish, CEO, says, "Many of our existing customers who are Site Manager users were asking for data from their powered access fleet. This simply wasn't available. So, we bought our own fleet and developed our own solution. We've already done this with all the other equipment in our portfolio so doing it for powered access was straightforward and easily within our capabilities.
Today customers can see the performance of all their equipment from a single screen, regardless of what they are hiring from Ardent. When customers are increasingly looking for ways to reduce their operating costs and business risks, a 'data-driven' approach helps to drive value and reduce waste. And while not everyone wants such an approach the market is growing, for certain. And this is where we are targeting our powered access proposition."
Ardent is making further investment and is expanding its fleet in the New Year. For more information contact Ardent Hire on 03333 202 555 or email hire@ardenthire.com
0 Comment
---
Blog Archives
In an increasingly competitive business landscape, companies across industries are constantly...