Ardent's BRAND new kit
Date: 10/02/16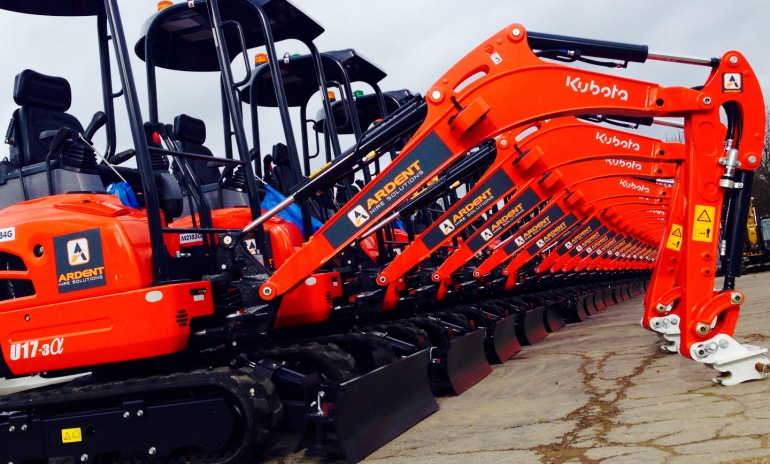 Ardent Hire Solutions £100m investment in brand new equipment is well underway, as the new company hits the ground running with the arrival of the first of 60 1.5t Kubota excavators.
'Brand' new
The new Kubota excavators will be the first vehicles to carry Ardent's exciting new brand, and will be available at Ardent depots across the UK. The new machines will continue to add to Ardent's excavator fleet which is one of the largest in the UK. It will continue to ensure they maintain the youngest fleet, giving customers unrivalled reliability and fuel economy.
Just like Ardent, the Kubota U17-3α has the versatility and performance to tackle almost any task. It also underlines Ardent's commitment to sustainability, with its unique E-TVCS (Three Vortex Combustion System) enabling high-energy output, low vibration and low fuel consumptions while minimising exhaust emissions.
Lots more to come
Ardent Chief Executive, Steve Corcoran, explains the significance of the new machines: "We're really excited by our first bulk delivery of 2016. These new Kubota excavators are proof of Ardent's commitment to providing our customers with the newest, most up to date fleet available in the industry today. This order is just part of our £100m investment as we improve and extend our fleet, and there is plenty more to come in the next few months."
For more information about Ardent Hire Solutions, Call 0844 264 4100
1 Comment
---
Blog Archives
In the dynamic realm of construction, where precision and efficiency are paramount, Ardent Hire's...