Ardent responds to the Ukrainian humanitarian crisis
Date: 19/04/22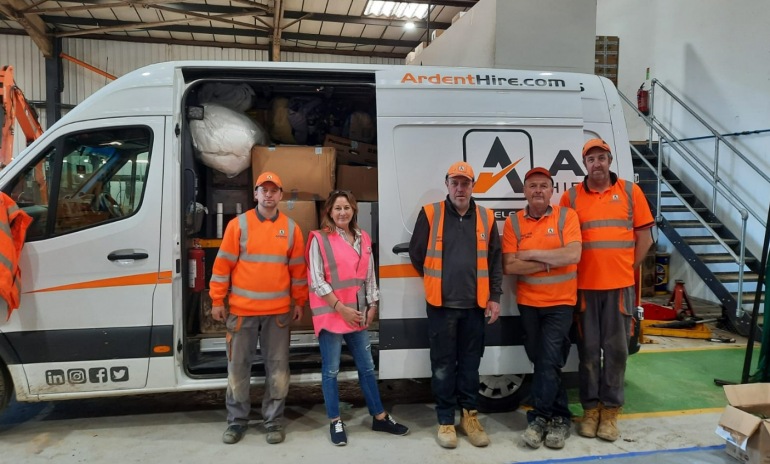 A team from Ardent Hire Solutions drove 3 vans across Europe to deliver over 250 boxes of essential supplies to Ukrainian refugees at the end of March. The team included Jeremy Fish, CEO, Julian O'Neill, CFO, Gary Hollebone, Regional Sales Director - South, Gareth Clements, Operations Director, Alan McMahon – Mobile Fitter and Gareth Basford, Director of Finance.
Working in conjunction with Rotary International, Ardent's convoy travelled to Kosice, in East Slovakia, where teams of volunteers from the town and the nearby Ukrainian border town of Uzhhorod, unloaded the vehicles and repacked the supplies into transit vans that were immediately destined for Kharviv, one of the cities in East Ukraine that is under artillery attack from the Russians.
Jeremy Fish commented, "I want to thank Ardent's suppliers, customers, employees, friends and supporters for their extraordinary generosity. The scale of this unfolding human tragedy is staggering. Humanity is being shattered and the lives of millions of Ukrainians have been forever changed. I'm pleased that we've been able to help in a very small way, however, it's abundantly clear to me that we need to do more, much more." Fish continues, "Ardent is committed to helping and promoting the need for more help in any way it can."
A film of the trip is available by clicking here.
0 Comment
---
Blog Archives
In an increasingly competitive business landscape, companies across industries are constantly...