Ardent places £13 million order with Mawsley for new Manitou fleet
Date: 22/10/19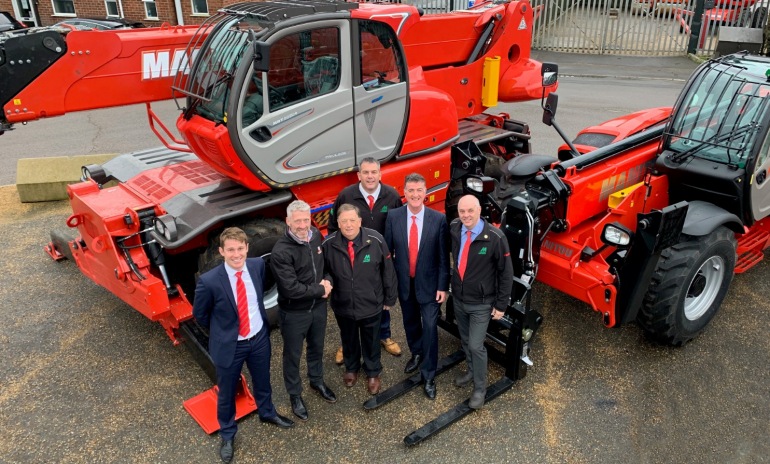 Ardent hire has placed a £13 million order with Mawsley Machinery and Manitou Group for the supply of new telehandlers and rotational telehandlers. This latest package of machinery is part of Ardent's continued focus on expanding and updating their rental fleet – the largest and newest in the UK.
In addition to their fifty 14-metre Tier 5 MT1440's, this latest order includes more than forty MT625, MT732 and MT932 machines with an additional 20 to 30 MT625's before the end of the year. Ardent's industry leading fleet now exceeds 3,600 telehandlers reinforcing their position as the largest telehandler provider in the UK.
The order also includes a new fleet of industry leading rotational telehandlers, with a number of MRT2150, MRT2550, MRT3050 and MRT3255 machines which can tackle complex handling tasks in construction, civil engineering and facilities management. Delivered over the next three months, this order adds further depth to Ardent's increasing roto telehandler fleet which has grown from 12 to 45 units in the last 12 months and provides the foundation for the plan to grow the fleet to 100 before the end of 2020.
Peter Smyth, Manitou UK Sales Director said "We are extremely delighted to secure this major deal from one of the UK's leading plant hire companies. It shows great confidence in our products and what we can offer the wider industry"
Peter continues 'cost savings and safety are high on every industry's agenda and with Manitou Telehandlers, Ardent customers will benefit from an increase in fuel savings, improved performance and safety, all monitored via Manitous "Connected Machine" technology that links in to Ardents Site Manager platform'.
All new Manitou machines entering the Ardent fleet will be compatible with their award winning proprietary telematics platform, giving customers the most advanced technology solution on the market to manage safety, productivity and cost across their hired-in fleet.
Ardent CFO, Julian O'Neill comments, 'Our decision to invest with Mawsley Machinery and Manitou Group to grow our telehandler and roto telehandler fleet was based on their industry leading products, service and after sales support. We have worked closely with Manitou to make all machines compatible with our Site Manager platform and we will see further enhancements to the information available during the first half of 2020. Overall, the lower operating costs and strong residuals, coupled with the advances in telematics ensure that the Manitou machines will fit well within our ever expanding fleet.'
0 Comment
---
Blog Archives
In the dynamic realm of construction, where precision and efficiency are paramount, Ardent Hire's...