Ardent is shortlisted for Health, Safety & Wellbeing at the 2020 Highways UK Intelligent Infrastructure Awards
Date: 07/10/20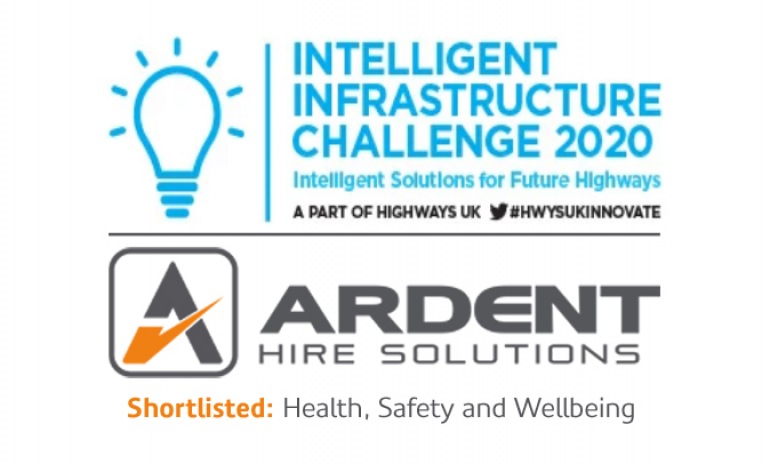 Ardent Hire Solutions is delighted to announce that it has been shortlisted for a leading health and safety award at this year's innovation competition organised by Highways UK.
As part of Highways UK's two-day innovation festival supported by Innovate UK, Ardent Hire's Site Manager platform has been shortlisted in the Health, Safety and Wellbeing category within Highways UK's Intelligent Infrastructure Challenge.
As the only plant hire company shortlisted, the announcement builds on Ardent's success at last year's Construction News Awards where the company picked up the Digital Construction Excellence Award in recognition of the contribution that Site Manager is making to the industry. Later in the year at the Building Innovations Awards, Ardent won the Best Health & Safety Innovation Award and was subsequently recognised as Most Innovative Supplier.
Site Manager is a unique management information and telematics system that has been developed by Ardent. It provides a practical solution for improving productivity, reducing operating costs and reducing risks on construction sites. With over 1,000 users today, the system has an established track record of delivering measurable bottom-line benefits which are derived from the data captured by Ardent's equipment which is packaged into actionable insights.
Jeremy Fish, CEO commented: "We are delighted to be shortlisted for this award which recognises the path we have been trail blazing for the last two years. Site Manager is now just one of several digital innovations offered by Ardent that help customers get better value from their hired-in equipment. Our experience is that a data-driven approach to equipment hire improves safety and reduces operating costs. And, as you would expect, we have the data to show this. In a world where margins are under pressure, our digital approach is providing benefits to many of our customers, by making their businesses safer, reducing their exposure to risk and helping them reduce the cost of their operations. This is a path we remain very much committed to".
Winners will be announced on the 3rd November 2020.
0 Comment
---
Blog Archives
In the dynamic realm of construction, where precision and efficiency are paramount, Ardent Hire's...