Ardent invest to grow their excavator fleet
Date: 05/10/18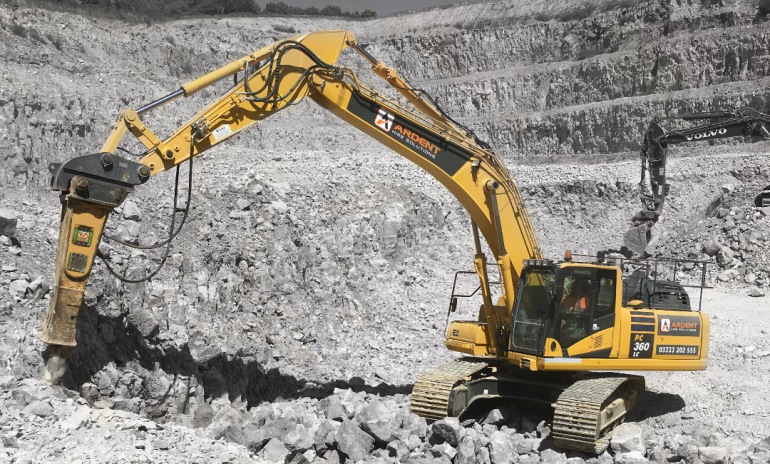 Ardent Hire Solutions, has placed a £9m order with Marubeni-Komatsu to supply PC138US (13T), PC210LC (21T) and PC360LC (36T) machines to further grow its large excavator fleet.
Ardent's machine fleet holding currently stands at an impressive 5200 assets. The Ardent value proposition of helping customers reduce risk, improve productivity and reduce the overall cost of operating means that the business continually invests in new machines to maintain a young average age profile and to take advantage of the latest technological advancements. This investment strategy along with a big upturn in demand means that Ardent will grow their excavator fleet by a massive 800 units this year. That excavator fleet extends right up to 36T machines.
Ardent's excavator customer base is spread across Civil Engineering, Utilities and Groundworkers, with many of those customers involved in major infrastructure and energy projects nationally. For some time now, there have been a number of Ardent excavators working on iconic sites across the UK, and with HS2 just around corner, demand is expected to continue to rise further still.
To cope with that sector growth, Ardent put out to tender for various sizes and quantities of excavator, with Marubeni-Komatsu winning an initial deal worth around £9m to supply a number of PC138US, PC210LC and PC360LC excavators. The main contributing factors to that winning bid being great availability of machines renowned for their reliability, a high level of standard spec as required by Ardent's Top Tier customers, on time delivery and competitive pricing. The inclusion of Komatsu Care which covers the first 3 years / 2000 hours of servicing was also seen as a massive plus point, as this frees-up Ardent's own fitters for other work. Plus – and this shouldn't be underestimated – the operators absolutely love them!
The spec across all three models include coupler buckets, boxing rings and a range of advanced safety features, as well Komatsu's all-round vision camera system, Komvision, which all comes as standard on all excavators 13T and above. Many of the 13T machines have also been fitted with Prolec height and slew restrictors, to enable them to work on rail and highway projects.
All the machines that have been delivered so far have gone straight to customer sites and the feedback via social media has been fantastic. The last of the units are scheduled for delivery by the end of this month.
A further area where Marubeni-Komatsu has been able to support Ardent is via machine telematics. All the Komatsu machines include Komtrax as standard, allowing information about each machine to be sent to Ardent every two hours. These alerts can be used to improve site behaviours and therefore on-site safety and employee welfare.
Anuj Patel, Head of Marketing at Ardent commented, 'Ardent recognise that their customers want to hire reliable, compliant machines, because that gives their customer one less thing to worry about. Hirers want to feel reassured that their machinery supplier can meet – if not exceed – all their health & safety standards and will not break down. That's why we only work with premium manufacturers such as Komatsu – for peace of mind that the equipment is safe and compliant, but also that it's reliable.'
Because of this, Ardent's excavator uptime for 2017 was recorded at 99.6%. In support of this Marubeni-Komatsu were able to use Komtrax to demonstrate that in the first twelve months their PC138US on average records an uptime of 99.98%.
0 Comment
---
Blog Archives
In the dynamic realm of construction, where precision and efficiency are paramount, Ardent Hire's...