Ardent Hire Solutions commits to the next generation by joining The 5% Club
Date: 26/09/17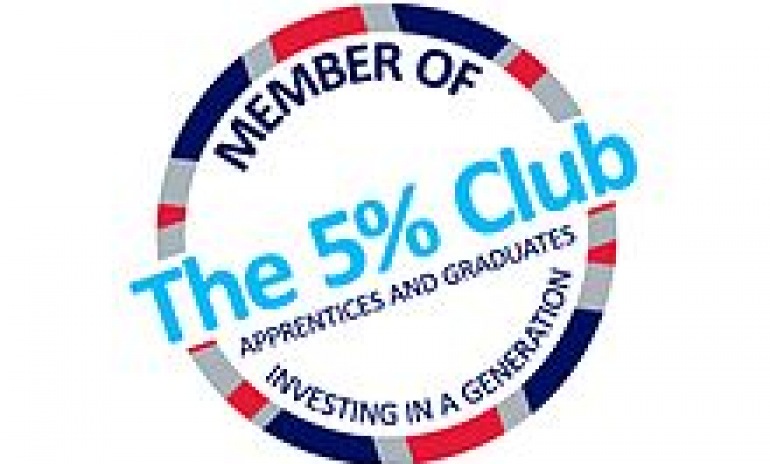 Ardent Hire Solutions, the UK's premier plant hire company, has showcased its commitment to the next generation by joining The 5% Club, an industry led initiative focussed on driving momentum into the recruitment of apprentices, graduates and sponsored students.
The campaign was initiated by defence technology company QinetiQ with an aim to get the UK's public and private companies to commit to raising the number of apprentices, sponsored students and graduates on formal programmes to 5% of their total workforce within five years.
The aim of the campaign is to tackle both the chronic skills shortage and youth unemployment in Britain and help the country remain at the forefront of innovation. It also asks members to publicly report their progress in their Annual Report.
"For us, joining the 5% Club was a no brainer. With continuous work with our local communities, we felt Apprenticeships, and investing in students and graduates is undeniably a great way for local people to enter the workforce, offering them the chance to develop vital skills which will help them throughout their career, as well as providing them with a paying job at a time when opportunities can be scarce," says Jeremy Fish, CEO – Ardent Hire Solutions.
"Offering people apprenticeships gives our business the chance to play an active role in moulding our future workforce and creating the future skills that we need to help our businesses grow. By making the commitment to offer apprenticeships, we have the opportunity to build up strong employee loyalty; and by investing in apprentices' careers we increase the chances of up-skilling, and more importantly, maintaining highly skilled staff."
"We know that apprenticeships give people of all ages and all backgrounds a ladder of opportunity to get the skills they need. That is why we have joined the 5% club, in an effort to offer a sustainable future for our workforce and business."
Dr Sam Healy, Programme Director of The 5% Club said, "We're delighted to welcome Ardent Hire to the initiative. The company's existing efforts to invest in the next generation are greatly welcomed and together we can strive towards a brighter future for young people in Britain."
0 Comment
---
Blog Archives
In the dynamic realm of construction, where precision and efficiency are paramount, Ardent Hire's...