Ardent Hire's roto-telehandler business is in a league of its own
Date: 13/04/21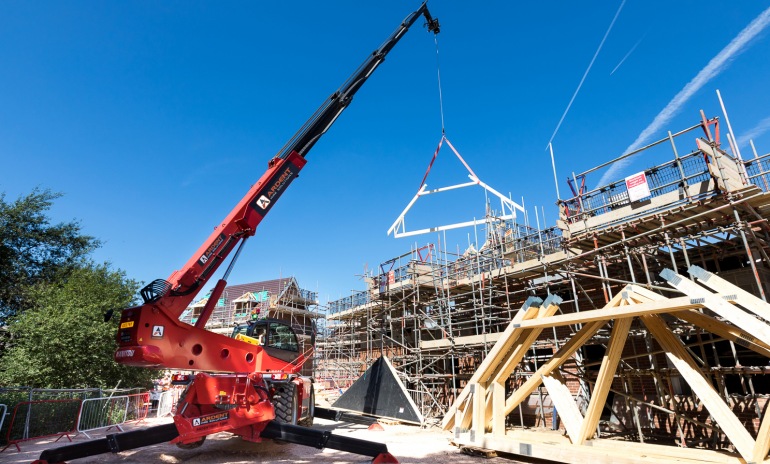 It's like Ardent has been on the hard shoulder of the motorway and then overnight suddenly catapulted into the fast lane such is the pace of its roto-telehandler business right now which has grown beyond anyone's wildest expectations. And this growth shows no signs of slowing.
Jeremy Fish, Ardent's CEO, puts this down to several factors. First, Ardent partnered with Manitou and resisted the temptation to dilute its expertise with other manufacturers. This enabled Ardent to develop a deep expertise of roto-telehandler equipment and its uses. Second, Ardent focuses on roto-telehandler applications and has developed these with customers to demonstrate improvements in productivity and safety that can be achieved with proper project planning and fleet management. Ardent's fleet also includes an increasing assortment of new attachments that can add to a roto-telehandler's usefulness and efficiency.
Ardent has also invested in technology which makes it simple for customers to do business with Ardent. This includes equipment familiarisation, troubleshooting and automated back-office administration with real-time information that saves time and speeds up decision making. Ardent has also established a comprehensive network of roto-telehandler operators who are experts in Ardent's equipment and way of working. No-one could ask for better ambassadors of Ardent's brand!
So far, Ardent's customers have been very impressed with the results. Demand for Ardent's roto-telehandlers and services has been so intense that Ardent has accelerated its investment in new fleet which will be over 60 machines during 2021. Today, Ardent's Manitou roto-telehandler fleet is already the largest in the UK and Ardent has plans to grow it further over the next 12 months. Clearly this is good news for customers who are enthusiastic fans of Ardent's services.
Fish adds, "These things are only part of a package of measures that's driving our growth. Top of the list is the Passion, Pace and Performance of our people who are obsessed with getting every detail right and going above and beyond for customers to ensure they're pampered with the very best service and attention possible. We love what we do at Ardent and we're doing what we love. Ultimately this is what is driving our growth."
Ardent's Manitou fleet includes equipment with a reach of 21m to 32m. Ardent also has a wide range of attachments. Equipment and operators can be hired by calling 03333 202 555 or emailing roto@ardenthire.com.
0 Comment
---
Blog Archives
In the dynamic realm of construction, where precision and efficiency are paramount, Ardent Hire's...