ARDENT HIRE IS RECOGNISED AT THE HAE AND IIRSM AWARDS
Date: 21/05/21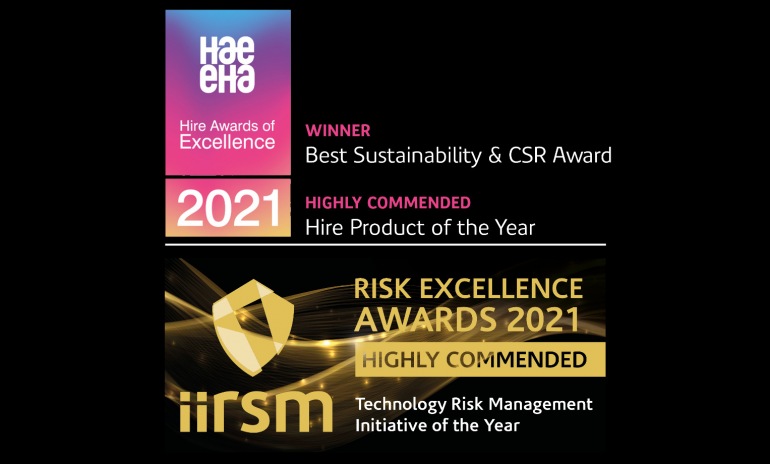 Ardent is thrilled to have won 'Best Sustainability & CSR Award' at the 2021 Hire Association of Europe (HAE) Awards for its innovative, not-for-profit, carbon offsetting initiative that enables customers to offset the emissions from their hired-in plant for just a few pounds extra a week.
Ardent's sustainability strategy has four elements:
Reducing carbon emissions – Ardent's multi-award winning technology platform Site Manager and Ardent Insite are now maturing technologies that have a track record in reducing emissions.
Offsetting the balance – Ardent's carbon offsetting programme, in partnership with leading carbon developer, ClimateCare, enables customers to offset their remaining emissions. Ardent has also offset the emissions from its 55 x HGV fleet meaning that all customer deliveries and collections are carbon neutral.
Fleet investment – Ardent is investing in Stage V equipment that has smaller engines, lower carbon emissions, and reduced particulate emissions. In the last 4 years Ardent has invested over £250m in new equipment.
Alternative fuel trials – Ardent is trialling electric machines at several locations and HVO as an alternative to diesel.
Ardent's Site Manager was also highly commended by judges in the award category "Hire Product of the Year".
In a separate presentation at the International Institute of Risk and Safety Management (IIRSM) Ardent's Site Manager was highly commended by judges in the category "Technology Risk Management Initiative of the Year".
Ardent has a track record of being a disruptor and innovator in the plant hire industry. We are delighted that our work was recognised at last night's awards and we look forward to working with colleagues, customers and prospective customers to bring them additional solutions that improve their productivity and safety whilst reducing costs at the same time.
0 Comment
---
Blog Archives
In the dynamic realm of construction, where precision and efficiency are paramount, Ardent Hire's...