Ardent Hire announces a key partnership with ClimateCare as part of its drive for sustainable business in the plant hire industry
Date: 11/08/20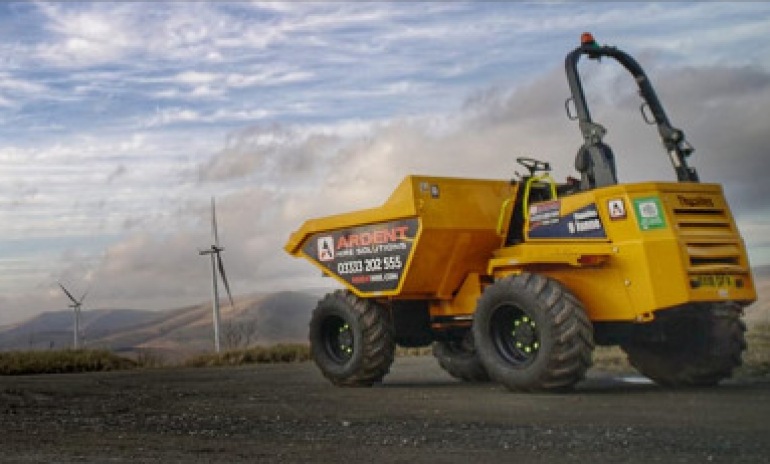 Ardent is today leading the plant hire industry by announcing an innovative carbon offsetting programme. In partnership with ClimateCare, the expert at financing, managing and developing climate projects, Ardent is offering a not-for-profit carbon offsetting service to its customers. For just a few pounds extra a week, customers can offset their greenhouse gas emissions and make their hires carbon neutral. Carbon charges are displayed separately to hire charges on invoices and funds are used to offset emissions with carbon credits from Gold Standard projects that are independently verified for their carbon reduction volumes.
As an extra first step, Ardent has paid to offset the 3,600 tonnes of CO2 produced annually by its 55 HGVs, meaning that all customer deliveries and collections are carbon neutral up to the end of April 2021.
Electric machines and alternative fuels, such as hydrogen, will undoubtedly substitute diesel machines at some point in the future, but due to a number of factors, including capital cost, power limitations and access to charging, this shift is currently not possible. In the meantime, while we wait for the right technologies to become a reality, we must take responsibility for our unavoidable emissions today.
Jeremy Fish, CEO said, "I want customers to know that we are totally committed to helping our industry reduce its carbon footprint. Carbon offsetting is a practical, affordable solution for making hires carbon neutral, that can be acted upon today. The investment we have made in offsetting the emissions from our HGV fleet shows our concern and determination to make a difference."
Robert Stevens, Director of Partnerships at ClimateCare, said, "Clearly, Ardent's innovative approach is taking a lead in the plant hire sector and we are delighted to be working with them on this very important initiative. Our trademark Climate+Care approach helps organisations take a smart approach to addressing their environmental impacts by offsetting their carbon emissions through projects which also support sustainable development"."
Jeremy adds, "Carbon offsetting is just one part of the equation. We are equally passionate about carbon reduction. Users of our multi-award-winning Site Manager, which now has over 1,000 users, will already have already seen how they can reduce their carbon emissions and save money at the same time."
[Ends]
For enquiries: -
Contact:
Ardent Hire Solutions
Jeremy Fish, CEO Jeremy.fish@ardenthire.com
www.ardenthire.com
ClimateCare
Holly Pither, Tribe PR holly@tribepr.co.uk
www.climatecare.org
0 Comment
---
Blog Archives
In the dynamic realm of construction, where precision and efficiency are paramount, Ardent Hire's...