Ardent acts on sustainability
Date: 09/06/21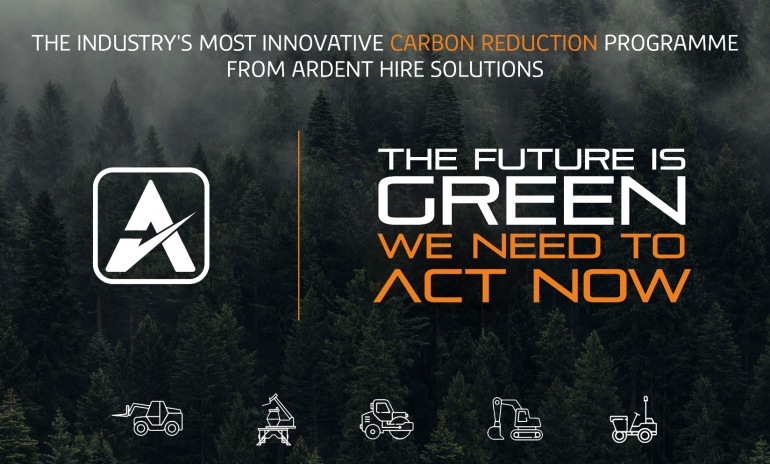 Ardent Hire Solutions is thrilled to have received the "Best Sustainability and CSR" Award at this year's Hire Excellence Awards provided by the Hire Association of Europe (HAE). Ardent Hire's carbon offsetting programme, in conjunction with its partner, Climate Care, is helping companies to make their hires carbon neutral. Ardent is leading the way by offsetting the emissions from its HGV fleet of 55 vehicles which means that all deliveries and collections to customer sites are carbon neutral up to the end of April 2022.
Ardent's carbon offsetting programme allows customers to buy carbon credits at the time of placing their hire for a nominal weekly charge that is displayed separately to hire rates on documentation. This money is invested in gold standard, ICROA approved, carbon reduction projects which also offer several CSR benefits. Jeremy Fish, Ardent's CEO, says, "Currently we're investing in Burn cookstoves stoves in Kenya which, as well as reducing carbon emissions, are providing local employment, particularly for women."
Ardent's approach to sustainability isn't just about carbon offsetting, however. Fish says, "There are 4 components to our carbon reduction programme: Reducing, Offsetting, Investing and Trialling. Reducing: Site Manager, our proprietary multi-award-winning software, has a proven track record of reducing fuel idling and carbon emissions. Offsetting: Customers can offset their residual carbon through our carbon offsetting programme. Investing: Ardent is investing in the latest Stage V machines which have smaller engines, and lower carbon emissions as well as reduced particulate emissions. Trialling: We are trialling alternative fuels such as HVO at several sites and feedback is so far encouraging. We're also trialling electric machines with several customers although the hire costs are significantly more than diesel machine equivalents."
Fish adds, "There is a lot of talk about carbon reduction in our industry right now. We need more than talk. We need action. Our initiatives show that we are not at the behest of manufacturers and regulatory initiatives. There are practical things that we can do now. It's part of a mindset that everyone needs to get into."
Fish continues, "Our carbon offsetting proposition is a non-for-profit initiative. How it operates, including costs, are detailed on our website; it's completely transparent. We're also happy to share what we're doing with industry colleagues. We just want more people to act. If everyone is doing something, then together we'll make a difference."
Ardent Hire Solutions is the UK's premier hire company providing telehandlers, excavators, dumpers, rollers and roto-telehandlers. With a fleet of 5,000 machines, 11 depots covering the UK and 280 employees, the company has a track record of providing outstanding service and equipment to a growing customer base that is served by an enthusiastic and capable team.
0 Comment
---
Blog Archives
In the dynamic realm of construction, where precision and efficiency are paramount, Ardent Hire's...