6 ways to use an Excavator?
Date: 16/08/19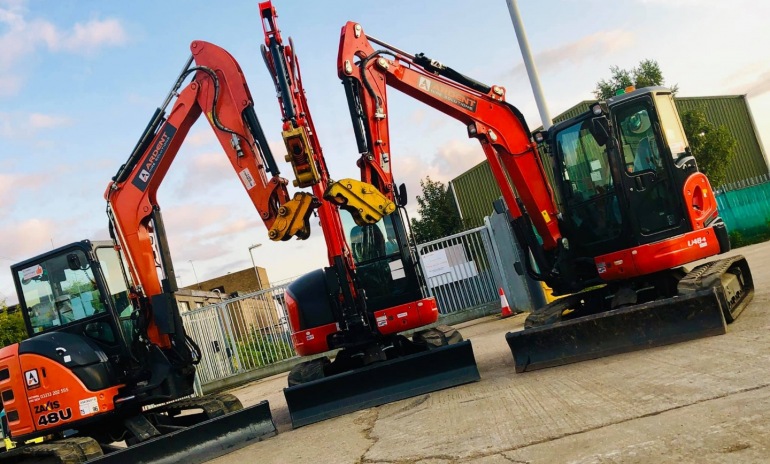 Do you want to get the best use of an Excavator? Here at Ardent Hire, we have one of the UK's largest and most comprehensive excavator fleets for hire. In this article, we will run through 6 different ways of using an Excavator.
Attachments
Depending on your project we can provide you with excavator attachments that can help you break, dig, and drill during the early phases of construction – such as the breaker attachment to break up rocks and concrete, or the clamshell bucket for digging trenches.
Once digging and breaking has taken place a Shaker Bucket can help sort and separate mixed materials, a grapple is a perfect accompaniment to move mixed materials of all sizes, whilst a compactor plate helps to compact materials in trenches or on slopes.
Backhoe Excavator
A Backhoe excavator consists of an attached bucket facing the driver; this bucket digs up the soil by pulling it in the driver's direction before lifting so the procedure is visible to the driver. Backhoe excavators are often used for dispatching waste in dumpsites, as the cab is rotatable by 360 degrees.
Crawler Excavator
Crawler excavators are built on two infinite tracks. These tracks are assembled in a chained-wheel system. Crawlers are capable of lifting debris and soil by applying a hydraulic power mechanism. Crawler excavators can also function well on hilly terrain. Crawler excavators are generally used for mining, demolition, heavy-duty purposes and for lifting or moving earth and large objects.
Power Shovel Excavator
A Power shovel excavator consists of a digging arm which has a bucket attached to it for excavating and loading split rocks and earth at mining sites. These power shovels are powered and mechanically aided by steel ropes. Power shovel excavators are mainly used for digging up coal and mining.
Alternative Excavators
Suction excavators are also known as vacuum excavators. They come along with a suction pipe that helps to carry away loose soil and debris. A dragline excavator is slightly different and much bigger. Due to their heavy framework, they are transported in disassembled parts and assembled on-site and are used in large-scale applications.
Mini Excavator
Hiring mini excavators as opposed to full-sized ones is because these machines can easily get into small spaces. At Ardent Hire, we can supply mini excavators as small as 0.9t, perfect for a job in tight spaces.
Using smaller machines can help you save on commercial driver's licenses and special permits when hauling equipment on highways. It's a smart way for you to save money.
Mini excavators have become very popular in the construction, industry, housing and infrastructure sectors. This is due to their practicality, high performance, reliability, and excellent business values.
Conclusion
Which method of using an Excavator best suits your project?
For more information please feel free to contact the Ardent Plant Hire team today to access our wealth of specialist knowledge on plant hire. You can speak to us on 03333 202 555 or info@ardenthire.com.
0 Comment
---
Blog Archives
In the dynamic realm of construction, where precision and efficiency are paramount, Ardent Hire's...