£4m Deal Adds Ammann Rollers to the Ardent Fleet
Date: 10/04/17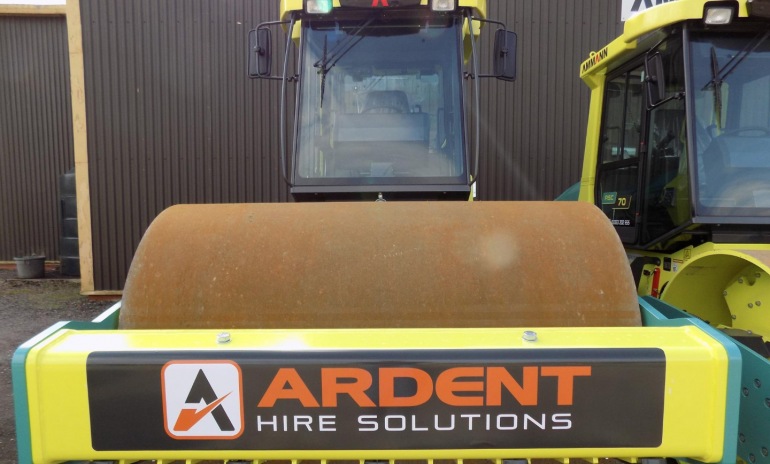 Ardent Hire Solutions are delighted to announce the latest phase in our £100m investment, with the signing of a £4m deal with A&Y Equipment Ltd. This major new purchase will add over 100 brand new Ammann rollers to the Ardent fleet, boasting the very latest technology in both performance and operator safety.
"We chose Ammann because they offer market leading products driven by innovative design," says Ardent Commercial Director, Tom Gleeson. "Thanks to their state of the art articulating and oscillating central joint, we are able to provide our customers with a greater safety specification and a solution to machine stability and control."
The order includes a wide range of compactors from remote-controlled trench rollers to single drum, self-propelled machines, including:
Rammax 1575 – the fully remote trench roller that won the Red Dot award for design in 2016, thanks to its articulating and oscillating central joint, which gives permanent ground contact and much better stability.
ARX tandem rollers – including the 80 cm drum width ARX12, the 120 cm ARX26 and the 138 cm drum width ARX45. ARX tandem rollers have unobstructed drum views, two frequency settings and centrifugal forces, plus an electronic drive lever for smooth starts and stops. For added comfort and safety, they feature the lowest hand/arm vibration figures of any similar sized tandem rollers.
15 tonne ASC150 – industry-leading compactors with advanced vibratory and amplitude systems that out perform most machines from heavier weight categories. These machines have excellent traction and climbing thanks to Ammann's no-rear-wheel-axle concept.
ASC110 and ASC70 – built for operator comfort with optimal visibility, vibration and sound reduction, plus an easy to use multifunctional display providing essential operating information. The ASC70 rollers will be the first in Britain to have the very latest Tier4 final engines delivering efficiency and sustainability without loss of power.
All the machines in the order were selected because they fit with Ardent's key customer provisions of safety, reliability, performance and fuel economy. As Tom Gleeson explains: "Ammann's product offering is perfectly aligned to the features that our customers demand, which made this partnership such a great fit for Ardent."
The new rollers will be rolling out across Ardent's 14 depots nationwide over the coming months, updating and complementing our extensive fleet of top of the range roller/compactors.
0 Comment
---
Blog Archives
In the dynamic realm of construction, where precision and efficiency are paramount, Ardent Hire's...