360 Degree Precision - Manitou Roto Telehandlers
Date: 23/05/16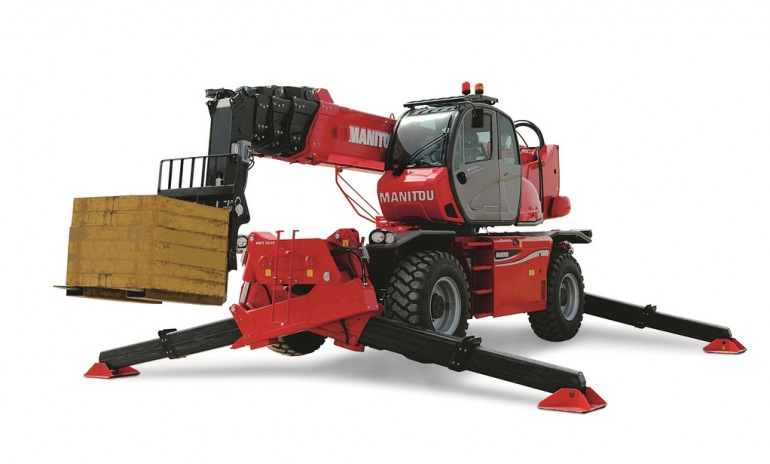 A major investment in brand new Rotational (ROTO) Telehandlers has further improved the largest, youngest and best-specified telehandler fleet in the UK at Ardent Hire Solutions.
Formed by amalgamating Fork Rent and One Call, Ardent already had the largest telehandler fleet in the industry, and now we've expanded that range further with £1.1m worth of brand new machines.
Whereas standard telehandlers can only lift and extend, rotating telehandlers combine both crane and forklift functions in one compact machine, with the ability to pick up and deposit loads within a 360 degree circle making them one of the most versatile machines on site.
High specification lifting
Manitou ROTO telehandlers can lift loads of up to 7 tonnes, reaching heights of up to 32m, with telescopic outriggers at the front and the back to create a stable foundation for lifting, no matter what position the boom is in. They can also be very precisely controlled, with twin electro-hydraulic joysticks allowing operators to move the boom by just a few millimetres at a time.
Most importantly of all, Manitou ROTO Telehandlers are incredibly safe on site, with a compact and flexible footprint, a secure frame leveling system, and slew and height limiters fitted as standard.
A flexible solution
The high degree of precision makes the Manitou Roto Telehandler the perfect machine for working in crowded or tight conditions, with its compact 360 degree turning circle allowing you to take your lift operation to parts of the site which traditional cranes would not be able to operate.
Telehandlers from Manitou can operate safely and securely on a wide variety of terrain providing the benefits of a crane, an access unit and a telehandler all in one single, cost-effective device.
Why Ardent chose Manitou
At Ardent, we insist on the very best for our fleet and for our customers, which is why we chose Manitou to supply our ROTO telehandlers. We have models available, ranging from 5.5 tonne to 12 tonne lifting capacity, and 10m to 32m reach.
All of our Manitou ROTO telehandlers feature:
• Quality build from the Michelin tyres up
• Easy maintenance meaning less downtime
• Ergonomic cabs for increased productivity and safety
• Fast turret rotation double the speed of rival machines
• Versatile operation with 4-wheel drive with 3 steering modes
• Flexibility with intermediate stabilisation for narrow sites
• Operator comfort both in the cab and on the platform
So if you're looking for a cost-effective, flexible and versatile lifting solution, talk to the expert team at Ardent about Manitou ROTO telehandlers and get the very best from Britain's biggest telehandler fleet.
0 Comment
---
Blog Archives
In the dynamic realm of construction, where precision and efficiency are paramount, Ardent Hire's...