Hitachi ZX85 USB-5 Swing Boom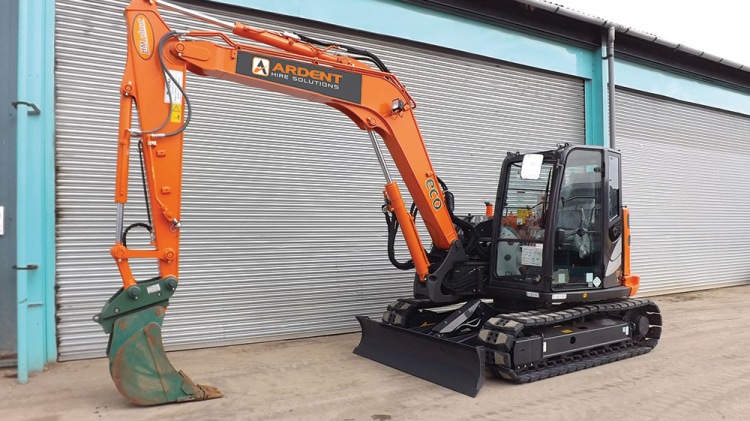 Hitachi ZX85 USB-5 Swing Boom Overview
The new ZAXIS 85USB swing boom has been designed and improved with performance and productivity, comfort and durability in mind, to give you everything you need from a flexible excavator. Hitachi has improved the HIOS III hydraulic system to reach higher yields with better fuel consumption, and enhanced lifting performance by adding power boost and auto power boost for more powerful digging and lifting. The cab has also been designed to deliver a safer, more comfortable work space, delivering all round vision, enhanced operator support and ergonomic controls layout to enable you to work better and be more productive. Hitachi is renowned for manufacturing high-quality machines that can meet the demands of the toughest job sites, and they've strengthened brackets on the boom foot with bushings to withstand rugged environments and enhanced main frame durability by enlarging the D-section frame skirt to make the ZAXIS 85USB more robust than ever. Add in the flexibility of the swing boom, allowing you to reach more without moving, and you have an exceptional excavator that is ideal for a wide range of sites and situations.
Safety equipment
Attachments
Hitachi ZX85 USB-5 Swing Boom specification
| | |
| --- | --- |
| Weight | 8930 kg |
| Length | 6370 mm |
| Width | 2320 mm |
| Height | 2830 mm |
| Max Digging Depth | 4610 mm |
| Max Digging Reach | 6920 mm |
| Max Cutting Height | 7610 mm |
| Tail Overhang | 130 mm |
| Bucket Size (in) | 12" 18" 24" 30" 36" & Ditch |
| Bucket Size (mm) | 300 450 600 750 900 & Ditch |
You might also need
Similar Products
Products
In the dynamic realm of construction, where precision and efficiency are paramount, Ardent Hire's...