The Benefits of Solar Hybrid Generators
Date: 23/05/23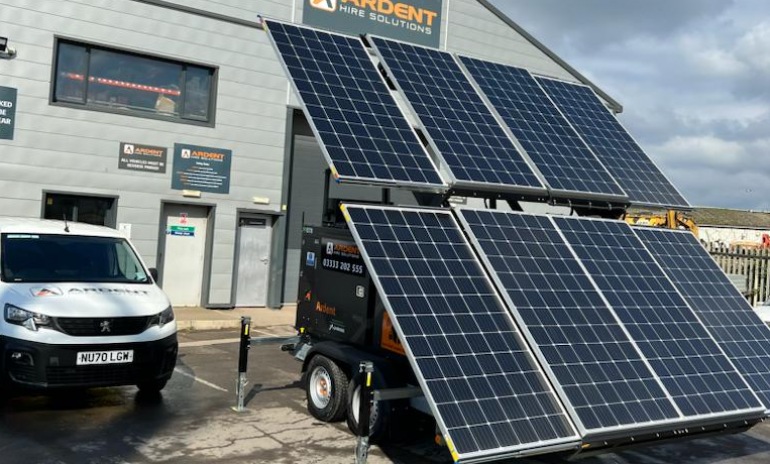 Using a solar hybrid generator on a construction site can provide many benefits, including:
1. Cost savings: Solar hybrid generators generate electricity from the sun, which can significantly reduce the fuel costs associated with traditional diesel generators. Additionally, with solar power being a free source of energy, when the sun is shining, you can reduce diesel reliance and save big.
2. Environmental benefits: Since solar hybrid generators use clean energy, they produce fewer emissions and environmental impact than diesel generators. This can help to reduce the carbon footprint of the construction site and mitigate air, soil and noise pollution.
3. Maintenance and maintenance costs: Diesel generators require periodic maintenance, including regular fuel refilling, engine lubrication, and filter changes. Solar hybrid generators require little maintenance, reducing the downtime and maintenance costs associated with the generators on the site.
4. Reliability: Diesel generators can be vulnerable to failures, particularly when running high power loads or in extreme weather conditions. Solar hybrid generators are often able to work reliably in these conditions, provided they have the correct battery storage capacity to ensure sufficient power for your needs when required.
5. Improving your reputation: Using solar hybrid generators on construction sites showcases an organisation's interest in protecting the environment and the health of the workers involved in the site activities.
6. Energy storage capacity enhancement: Some solar hybrid generators have in-built energy storage capabilities that can store some of the energy generated by the solar panels for use on the site during periods of limited solar electricity production, such as at night.
Overall, using a solar hybrid generator on a construction site can reduce operating costs, decrease environmental impact, require less maintenance, provide scalability, increase reliability, and enhance the reputation of the rental company or the site management.
To find out more about our new range of solar hybrid generators, contact us today on 03333 202 555 or email, hire@ardenthire.com.
0 Comment
---
Blog Archives
In the dynamic realm of construction, where precision and efficiency are paramount, Ardent Hire's...