London generators to power Ukrainian water plant
Date: 28/06/23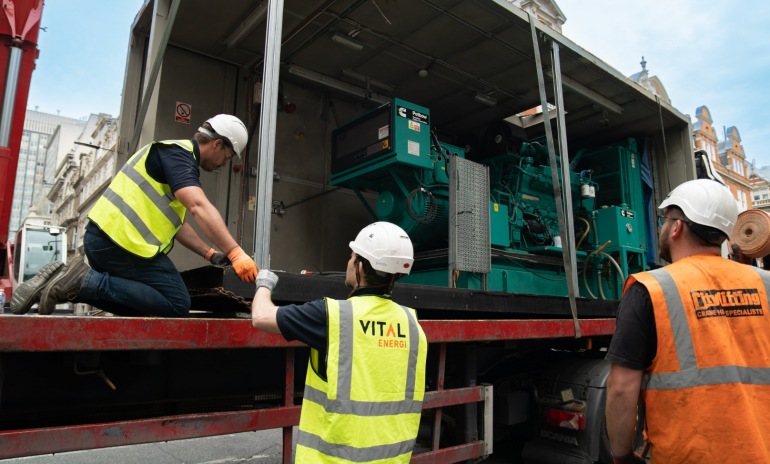 In the latest stage of their ongoing humanitarian campaign, the Plant and Hire Aid Alliance is moving two 650kW generators from Central London to Eastern Ukraine, to power an essential water processing plant.
As standby generators, the two units have very low operational hours on the clock, making them ideal for redeployment in Ukraine. They were being replaced as part of a wider refurbishment by McLaren Construction of the new IKEA store in Oxford Circus.
McLaren lifted the generators down from the roof of the Oxford Circus store on Saturday 17th June, using a specially constructed crane. They will now be transported to Ukraine by three, forty-foot articulated lorries, where they will be used to power vital local services in the city of Sumy. Together they are worth around £100,000, but the impact they will make is priceless.
Where are the generators going to?
Sumy is a provincial town located in the north-eastern part of Ukraine, just 30km from the Russian border. During the initial stages of the conflict, Sumy played a crucial role as a defence point, but it was eventually overwhelmed and occupied by Russian forces for two months. Ukrainian forces were able to liberate the city, however, since then, Sumy has been subjected to daily missile attacks, resulting in frequent power outages.
Why are the generators needed?
Sumy has suffered significant damage to its infrastructure, including the plant responsible for supplying water and managing wastewater for more than 250,000 residents. The plant oversees an extensive network of 530km of water pipes and 340km of wastewater pipes. Without intervention, untreated water could be discharged into the River Dnipro, which serves as a water source for seven million people.
About the alliance
The Plant and Hire Aid Alliance comprises a collective of 55 companies operating in the plant and equipment rental sector. Since the onset of the conflict, this alliance has undertaken various initiatives, resulting in the delivery of over £2 million worth of aid to those in need. Working closely with Rotary International in Slovakia and Ukraine, the alliance leverages a network of 70 clubs to effectively coordinate the distribution of supplies to those most in need.
Over 150 generators already delivered
Recently, the alliance launched a campaign to provide generators to meet the desperate need for power following sustained attacks on Ukraine's infrastructure. So far, the alliance has successfully delivered 150 generators to members of the public, schools, government buildings, and hospitals, bringing essential power, heat and light to people in their darkest hour.
Much more help in needed
While the alliance is grateful for all the support they have received already, there is still so much more to do – and we need your help, right now, to get it done. A life-changing generator for Ukraine costs just £279 – that's just £216 with Gift Aid if you are a UK taxpayer. It's a small price to pay for changing the lives, and perhaps even saving the lives, of ordinary people in war-torn Ukraine.
Don't just leave it to someone else. We need all the help we can get, so please donate now by visiting our Just Giving page, and share the link with anyone you can think of who might also help. All companies who donate will be featured in our social media, as well as on the Aid Alliance website at www.aid-alliance.com.
Thank you, in advance, for your kind support.
0 Comment
---
Blog Archives
In the dynamic realm of construction, where precision and efficiency are paramount, Ardent Hire's...